Posted by Andy Benoit

Chances are, you're familiar with the name Lousaka Polite. After all, it's a very unique name for a football player. (And it's one that is ripe for puns.) But, chances are, you actually know close to nothing about Lousaka Polite. That's the way it goes with fullbacks these days.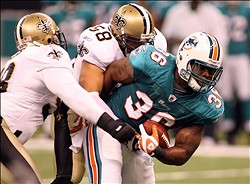 In short, the soon-to-be 29-year-old Dolphin is the best lead-blocker in football right now. Polite, a converted linebacker, spent the first three years of his career as somewhat of a fringe player with the Cowboys. In 2008 he was part of the wave of Cowboy backups who followed Tony Sparano, Bill Parcells and Jeff Ireland to Miami.

Last season is when Polite truly blossomed into one of the game's hardest-hitting, most cerebral fullbacks. Besides paving the way for Ronnie Brown and Ricky Williams in Miami's fourth ranked rushing attack, Polite converted all 16 of his third/fourth-down-and-one rushing attempts. By season's end, he was finally being recognized as an on-field leader and unheralded warrior.

ESPN's Tim Graham wrote a feature on Polite this weekend:

"His role on the offense is very, very important," Sparano told Dolphins reporters this week. "Never mind what he does in some of the short-yardage situations. This guy is one of the people that you can really trust out there.
"Ricky and Ronnie would tell you they trust him because they know that he's going to help them get through the smoke. They just trust that the guy is going to be in the right place at the right time. ... As a football team you hope that you have more and more people that can trust each other like that group trusts Lousaka Polite."
Williams also appreciates that Polite can be so amenable. Williams explained a lot of fullbacks he has played with in the past can't diversify their approach, but Polite will cater to either Williams' or Brown's running styles.
"The way that I run, I like to get downhill as soon as possible," Williams said. "Some backs like to make people miss more. They trust and use their vision more.
"But the way I run, I say 'All you can do is get in the guy's way, Lou, because I'm going to be off your butt so fast you just need to get out of my way.' When I get the ball, there's never even a doubt in my mind he's going to be in the right place and that there's going to be a crease."

For more NFL news, rumors and analysis, follow @cbssportsnfl on Twitter and subscribe to our RSS feed.