Seattle has been the supposed landing places of a few high-end free agents this offseason. And why not? Head coach Pete Carroll hasn't been shy about adding new players and subtracting the ones he hasn't wanted (even if they played for him at USC). First,
Bills
RB
Marshawn Lynch
was heading to the northwest. That didn't happen. Now, the
Seahawks
apparently are interested in obtaining the services of San Diego WR Vincent Jackson.
Even if Seattle doesn't pull in another top-notch free agent before the season starts, never fear. Carroll seems to know exactly what he's doing. Or, at the very least, what he wants.
As we discussed
here
, Carroll's roster hasn't been a safe haven for anybody in the Seattle locker room. Since he took the job in January, he's acquired 60 players, and of the 80 players heading to training camp, 44 of them weren't on the roster pre-Carroll. I'm always wary of a team which gives its coach the absolute final say over the personnel that plays for him, but apparently, Seattle thinks it's a good idea. And Carroll hasn't been shy about using his power.
But just because there's been significant turnover, that doesn't mean this year's Seattle squad will make anyone forget about its 2009 debacle (the 5-11 record, the firing of then-coach Jim Mora after only one season). Aging veteran QB
Matt Hasselbeck
struggled, the top running back
Julius Jones
was unimpressive, and the offense never found an effective No. 1 receiver (
T.J. Houshmandzadeh
, the team leader in receptions, is not meant to be a No. 1 guy).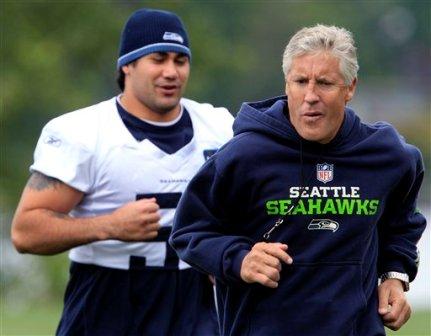 The defense was abysmal as well, allowing 24.4 points and 356.4 yards per game. The Seahawks couldn't stop the pass, probably because they couldn't figure out a way to rush the opposing quarterback.
Seattle isn't that far removed from playoff runs from 2003-2007 and a Super Bowl appearance at the end of the 2005 season. But it feels like forever ago, doesn't it?
So, what will change? Obviously, Carroll, who was slightly better than a .500 coach in his previous dalliances in the NFL but who's coming off so much success at USC, feels like the roster needed to be remade. But you have to question some of his moves.
He brought in former USC RB LenDale White briefly before the team released him, and I don't understand the love – and the big contract – for career backup QB
Charlie Whitehurst
. I don't like the fact WR
Nate Burleson
and the top-three pass rushers from last year are gone. In fact, I thought it was unfair Mora got the boot after one season.
That said, I liked the Seahawks 2010 draft class. Carroll found a starting LT in
Russell Okung
who can replace Walter Jones, a FS in
Earl Thomas
that has good speed and cover skills, and a quick threat in WR
Golden Tate
,
Sure, a huge roster turnover doesn't usually mean a team is poised for a breakthrough season, and people around the league don't seem to have high hopes for this year's squad. Also consider the offensive system, which will rely on making formation shifts to confuse the defense, is going through a wholesale change. But get the new guys some seasoning, maybe get Whitehurst some playing time, maybe have second-day draft picks like TE
Anthony McCoy
and CB
Walter Thurmond
surprise some people, and maybe, the Seahawks can be a threat in the next few years. Maybe Carroll can replicate his success from USC in Seattle. Maybe.
--Josh Katzowitz
For more NFL news, rumors and analysis, follow @cbssportsnfl on Twitter.