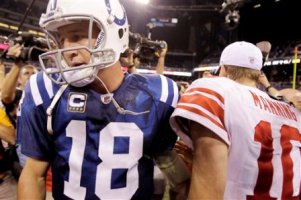 Posted by Josh Katzowitz
For the second half of the
Colts
-Giants game, the most interesting aspect of the contest was this: how in the hell did New York RB
Brandon Jacobs
' helmet end up in the stands? Did he hurl it like he was Al Oerter? Did somebody steal it? Did the helmet grow legs and walk into the stands? Did Jacobs slip on a banana peel and toss it into the crowd by accident?
Well, we don't really know. All we know is that NFL security retrieved the helmet from the fan who desperately wanted to keep it for himself. We know Jacobs was yelling into the stands after he discovered his helmet no longer was in his hands. And we know that Jacobs didn't return to the game after the Case of the Missing Helmet had been solved.
Oh, and we know that the Colts have recovered from last week's season-opening loss to Houston, and we know that the
Giants
defense might not be very good. Or Indianapolis' offense is unreal.
Peyton Manning
was efficient (read: very good) and completed 20 of 26 passes for 255 yards and three TDs, and RB
Joseph Addai
carried the ball 20 times for 92 yards. The offensive line dominated the Giants defense, which allowed 410 yards overall. And the Giants defense dominated the offense, sacking
Eli Manning
into submission.
And as the teams shook hands – the Manning brothers briefly met at mid-field, patted each other on the shoulder and moved on – and headed off the field, Archie and Olivia Manning were waiting in the tunnel that leads to the Giants locker room to console their youngest boy, Eli. It looks like he needed it.
She gave him a hug, and he gave a sad little smile. Rough night for the youngest brother. Rough night for Jacobs, as well.
For more NFL news, rumors and analysis, follow @cbssportsnfl on Twitter and subscribe to our RSS Feed .