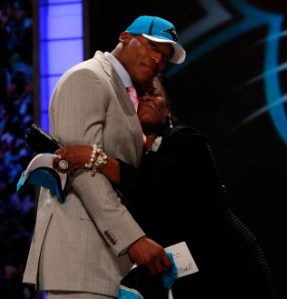 Posted by Will Brinson
The biggest issue facing the Court of Appeals when they make their ruling on the June 3rd hearing -- at least in my opinion -- is
whether or not the 8th Circuit believes the NFLPA actually dissolved
.
But there's another tremendous issue that lingers with regard to the current stay of the injunction of the lockout: which party is suffering irreparable harm?
And while reading my colleague
Clark Judge's excellent piece on "first-year phenoms" surprising
in 2011, something hit me: the damage being done to younger players, courtesy of the current lockout, is
absolutely irreparable
.
Actually, it was quote from Brian Billick -- ironically, a part-time employee of the NFL itself -- that set it off for me (emphasis mine).
"Let's say they get no OTAs," said Billick. "And let's say we get a full training camp. Then
I cut the odds down by at least 50 percent in terms of a quarterback's ability to come in and be a starter
. And with
every week into training camp we lose I think we knock it down 25 percent
."
Those are BIG numbers, people -- imagine if you were a commission-based salesman and someone took away a quarter of your territory. Or even worse,
half
-- how much would that impact your ability to succeed in your job for the given a year?
Doing any sort of quantitatively accurate math on exactly how much damage would be done to say, someone like
Cam Newton
, is pretty difficult, simply because we
don't know
how good he'll be in 2010 and beyond. But here's the follow-up quote from Billick that's even more telling.
"You can't be overly optimistic with what you think you can get done with rookie quarterbacks -- which means a year from now I don't know that we'll know anything more about Cam Newton than we do this year," Billick said.
Now, there's plenty of room for clarification to that quote, but to me, it seems like a player in Cam Newton's situation is having somewhere between 50 and 100 percent of his season killed off by the lockout, depending on how long it goes on.
And there's an argument out there that Newton is still going to get paid (well) and still develop as a quarterback. But here's the counterargument: when he loses somewhere between a half- and full year of development as a result of the lockout, he loses an impossible-to-calculate digit in terms of financial gain from a new contract.
He loses a year of production and/or learning in the prime of his life. He loses, even if you want to be conservative with the average number of years that a first-round quarterback plays,
one-tenth of his career
.
And there are -- if you want to count
Christian Ponder
,
Jake Locker
,
Andy Dalton
,
Colin Kaepernick
and
Blaine Gabbert
-- at least six Newtons out there who are being irreparably damaged.
This holds true for unsigned free agents too. And the players haven't shied away from making that point to the courts. The problem is, the Appeals Court doesn't seem that interested in the argument that a bunch of agents and lawyers are making with respect to the livelihood of a young football player in the NFL.
What they need to be doing is checking with the people who know better than anyone how much a year of learning can damage the career of a rookie in the NFL: the defendants.
For more NFL news, rumors and analysis, follow

@cbssportsnfl

on Twitter and subscribe to our
RSS Feed
.