Posted by Andy Benoit

1.) D.C. Drama

It was one of those scenarios that make you question yourself. You see Donovan McNabb standing on the sid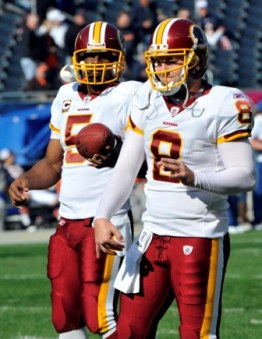 eline with 1:45 left in the fourth and the Redskins trailing the Lions 30-25. You see Rex Grossman taking the field. You pause a second. Once you're sure it's really happening, you say, Wait, what'd I miss here?

Benching McNabb for Grossman is a decision that's somehow as downright stupid as it sounds. Most baffling is that this stupid decision was made by Mike Shanahan. It's one thing to bench a veteran star quarterback. It's another to bench him when he's managed to lead your team to a decent 4-4 record despite having a fourth-string running back and a slew of fourth-string receivers playing prominent roles. And it's another when he had been playing well in the very game you sat him down.

Behind a banged-up Washington offensive line that was overmatched by Detroit's suddenly vibrant front four (Ndamukong Suh is the early favorite for Defensive Rookie of the Year), McNabb endured five sacks, 10 hurries and 11 hits Sunday. Yet still, he was 17/30 for 210 yards passing, plus he ran for 45 yards on four scrambles. OK, sure there was the interception to Alphonso Smith and, before that, another bad ball that Smith should have picked and taken to the house. But fine, let's say McNabb's performance Sunday was only mediocre. There's still the unforgivable factor in Shanahan's stupid decision, which is that the guy he replaced McNabb with was Grossman.

That'd be the same Grossman who could barely find a team last season; the same Grossman who actually invented new ways to turn the ball over as a Bear. When you flip karma the bird like Shanahan did, karma tends to respond quickly. Sure enough, on his first snap, Grossman made a play that only Grossman could make, fumbling the ball on a nasty blindside sack. Karma was so ticked off at Shanahan that not even Suh's foolish Leon Lett impersonation while returning the recovered fumble could prevent a Lions victory at that point.

Thanks to a bye, the Redskins now have two weeks to deal with the ensuing storm of controversy that is about to unload on D.C. And karma is not likely to throw them any breaks. The next time McNabb and the Redskins take the field will be Monday, November 15, when they host…the Eagles.


2.) NFC powers tighten gap on AFC powers

You had to know it wouldn't last. Yes, the AFC is better than the NFC this year, but not by the ridiculous margin that September and October gave us. Outstanding defense brought us closer to equilibrium Sunday, as the Packers stifled the Jets and the Saints swarmed the Steelers. Both NFC teams dominated behind their defensive pass rush.

The Jets had no answer for Clay Matthews' speed off the edge. It helped that Brandon Chillar had his best game of the season, and Green Bay's young defensive linemen, B.J. Raji and C.J. Wilson, controlled the trenches.

The Steelers could not get ahead of the Saints' über-aggressive blitzes. It was remarkable that Gregg Williams dialed up the attacks, considering he was without top three corners Jabari Greer, Tracy Porter and Patrick Robinson (who left early with a right ankle injury). The two most popular preseason Super Bowl picks from the NFC are now both 5-3.


3.) New York's Gamble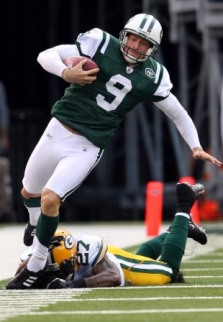 Sticking with the Jets-Packers game…

When Jets punter Steve Weatherford took off and ran from inside his own 20-yard line late in the first quarter Sunday, you could have sworn you were watching your idiot roommate playing Madden on the X-Box. The Jets actually fake punted from their own 20-yard line! And on fourth and 18! After replay, it was determined that Weatherford stepped out of bounds a yard-and-a-half short of the first down. Green Bay wound up getting three points out of the splendid field position – the only points the Jets D has allowed in any first quarter this season – and Rex Ryan left himself open to easy second-guessing.

Except, it wasn't Ryan's decision. Turns out, Weatherford made the call. That's right, the punter – the punter! – called his own number. Whoa, talk about gall. Take any receiver willing to go over the middle, any quarterback willing to step into a blitz and any linebacker willing to shoot the gap against a steamrolling running back and, chances are, none of them have the stones Weatherford must have. Afterward, he explained himself:

"It would have been a good decision had it been fourth-and-nine, but that's my fault. I made the decision to try to make the play, but it didn't work out for the team. We're a team that's willing to go out there and lay it on the line, but it just didn't work out today. It's a situation where I don't have the green light, but if I do it, he's not going to be mad if I get it. It has worked out in the past. It worked out in Oakland, it worked out in Miami, (but) today, it didn't. It could have been a huge swing for us in the game, but obviously we came up about a half-yard short."


4.) Little Big Men

Let's shift to a positive special teams note and go back to the Lions-Redskins game. Did you see the electrifying return artists in that contest? In order to, you may have had to squint in order to. Detroit's Stefan Logan (5'6", 180 pounds) and Washington's Brandon Banks (5'7", 150 pounds – that's right, 150) put on a show.

Logan had a dazzling 71-yard punt return in the second quarter to set up one of Calvin Johnson's three touchdowns. (Johnson, by the way, spent all afternoon taking advantage of the inconsistent safety help on DeAngelo Hall's soft man coverage.

Banks had a 96-yard kick return for a score. He also had a 46-yard kick return, a punt return that went for 35, and another kick return score that got called back for holding. And before he was aware of that holding penalty, Logan celebrated his score by dunking the ball over the goalposts. That's a 5'7" man dunking over a 10"-high crossbar while wearing full padding and still catching his breath after running the length of the field.


5.) The bad NFC team we should be talking about

I refuse to discuss the Dallas Tin Men, errrr, Dallas Cowboys this week. We just saw them last week on Monday night. We have to see them next week on Sunday night at Green Bay (apparently, that is "America's Game of the Week"). We have to see them on Thanksgiving and again a few weeks later on NFL Network. There will be plenty of chances to talk about what's wrong with America's team, what changes Jerry Jones will make, how obvious it is that Wade Phillips is a dead man walking, etc. And mind you, the Cowboys will be irrelevant in the playoff hunt this entire time. So, knowing that's ahead, I'm going to rest up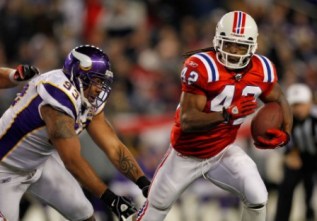 and save my sanity by pretending the game against the Jaguars never happened (this, by the way, makes me feel like a Jacksonville native).

I will, however, talk about the NFC's other fallen team, the Vikings. While it's chic (and easy) to assume that everything is Favre's fault, the reality is, the Vikings defense has been one of the great underachieving units in football this season. Jared Allen dressed as a ghost for Halloween. Come to think of it, Allen actually busted out that costume a few weeks ago. His teammates haven't stepped up, either.

For the first time in team history, the Vikings have gone three straight games without a sack.

With a nonexistent pass rush, Minnesota's ho-hum secondary has been exposed. Madieu Williams put on a clinic Sunday for how not to make plays; Pats receiver Brandon Tate should have given the veteran safety a game ball afterwards. And scouts are finally figuring out what's wrong with cornerback Asher Allen: he's not good at playing football. Allen gives up separation in his man coverage technique, he struggles to locate the ball in the air and his open-field tackling is hit or miss.

What's more, the Vikings' once-impenetrable run defense is giving up only 3.9 yards per carry, but overall, it ranks 13th in yards per game. That's as startling drop considering this group ranked second last year and first in each of the three years before that. Late in the fourth quarter Sunday when the Vikings needed a stop on the ground, they plain couldn't get one. On New England's final possession, BenJarvus Green-Ellis ran the ball six times for 60 yards to ice the game.


6.) Uh oh

You ever noticed the amount of misbehavior the youngest kids in families with a lot of children can get away with? It's stunning. While the parents are getting drained dealing with the older kids breaking curfews, fighting amongst each other and bringing home ugly report cards, the younger kid is secretly living a dream that includes watching raunchy movies, stealing bits of cash from around the house and detonating fireworks in the elderly neighbor's mailbox. It isn't until something goes really wrong before the parents realize that they've been neglecting their biggest handful of all.

Think of Randy Moss as the rebellious youngster in Minnesota. While everyone is focusing on Brad Childress and Brett Favre and, perhaps now, Jared Allen and the defense, the newcomer at wide receiver is subtly stewing about what's turned out to be a lost season in his contract year. Did you hear what Moss said after the Patriots game? Here are the big pieces: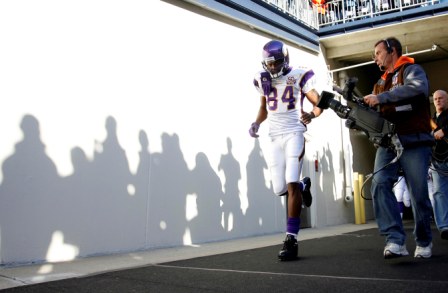 On his relationship with the media…

"I got fined $25,000 for not talking to you all, and me personally, I really don't care, but at the same time, I do ask questions, I mean answer questions throughout the week. The league can fine me $25,000. I'm not going to answer any more questions for the rest of this year. If it's going to be an interview, I'm going to conduct it. So I'll answer my own questions. Ask myself the questions, then give you all the answers."

On his former teammates…

"Man, I miss them guys, man. I miss the team," Moss said. "It was hard for me to come here and play.

"Been an up-and-down roller-coaster emotionally all week. And then to be able to come in here and see those guys running plays that I know what they're doing, and the success they had on the field, the running game -- so, I kind of know what kind of feeling they have in their locker room, man, and I just want to be able to tell the guys that I miss the hell out of them. Every last helmet in that locker room, man."

On his preparation with the Vikings coaching staff for this game…

"The bad part about it -- you have six days to prepare for a team, and on the seventh day, that Sunday, meaning today, I guess they come over to me and say, 'Dag, Moss, you was right about a couple plays and a couple schemes they were going to run.' It hurts as a player that you put a lot of hard work in all week, and toward the end of the week, Sunday, when you get on the field, that's when they acknowledge about the hard work you put in throughout the week. That's actually a disappointment."

His final word…

"I'm definitely down that we lost this game. I didn't expect we'd lose this game. I don't know how many more times I'll be in New England again. But I leave coach Belichick and those guys with a salute: (and yes, Moss actually saluted while saying this). 'I love you guys. I miss you. I'm out.'"

Read into all that what you will. I read into it that this is Moss' way of telling the Vikings, I hate being on this team.


7.) The NFL's best team?

According to the standings, it's the Patriots. They're the only team that has just one loss on the season. It's kind of hard to believe, given that New England pairs a ball control offense with a defense that ranks 28th in yards allowed and dead last on third down. But no team manages in-game situations better than the Patriots. (That's why their games always feel so choppy.)

At least that 28th-ranked defense is improving by the week. Jerod Mayo is a star at inside linebacker. He's a rock of a run defender and a sterling open-field tackler against the pass. First-round rookie Devin McCourty is blossoming into a bona fide No. 1 corner. The defensive linemen around Pro Bowler Vince Wilfork have elevated their games; Mike Wright has a sack in four-straight contests, and last year's second-round pick, Ron Brace, showcased his development on the fourth-down goal-line stop in which he blew up Phil Loadholt and stuffed Adrian Peterson. Finally, safety Brandon Meriweather is close to regaining his '09 form. Overall, this is a young defense that should only get better.


8.) Do we believe the nautical villains?

I've been saying all season that the Buccaneers are not good enough in the trenches to make the playoffs, and that the Raiders' greatness on paper is matched only by their embarrassing ineptitude on the field. I'm not ready to eat crow yet, though I'm fingering my silverware (I'll assume crow is something you'd eat with a knife and a fork).

The Bucs got their fifth consecutive road victory with a 38-35 win at Arizona Sunday. But Tampa's MVP that game was Cardinals quarterback Max Hall. When the undrafted rookie threw his first career touchdown pass to Larry Fitzgerald, the veteran receiver, rushed over and gave Hall the ball (it was a truly classy move by Fitzgerald, considering how justifiably frustrated he's been with the team's quarterback play this season). Along these lines, it would have made sense for Bucs corner Aqib Talib to give Hall a souvenir ball on the second quarter pick-six he threw, as that was Hall's most precise touchdown strike on the afternoon.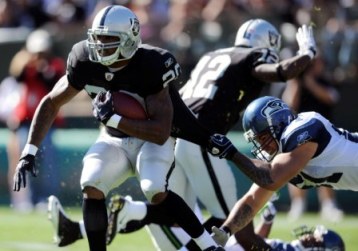 That was also Hall's second pick-six on the day, which is why Ken Whisenhunt decided that maybe Derek Anderson is the best guy to lead the team after all. (If Anderson and Whisenhunt were dating, all of Anderson's friends at this point would be pleading with the quarterback to stop letting the head coach just use him like this.)

My point? The Bucs are 5-2, but their most recent win came against a hapless Cardinals club. Obviously, a win is a win in the NFL. But if the Bucs' head coach wants to talk about his team being the best in the NFC, then the "they haven't beaten anybody" argument is fair game. The combined records of the teams Tampa Bay has defeated (Cleveland, Carolina, Cincinnati, St. Louis and Arizona): 12-24. The combined record of the teams Tampa Bay has lost to (Pittsburgh, New Orleans): 10-5. So, I'm skeptical. It will be easier to gauge this team after it faces division foe Atlanta next week.

Regarding the 4-4 Raiders, wins over Denver and Seattle don't exactly merit great acclaim, but the convincing nature of those wins does. After spanking the Broncos 59-14, the Raiders pounded the Seahawks 33-3. Darren McFadden – whom I was shocked to learn, led the league in yards after contact heading into this game – rushed for 121 of the team's 239 yards. This against a Seattle run defense that ranked second in the league prior to Sunday.

Jason Campbell was a sterling 15/27 for 310 yards and two scores – and those numbers aren't inflated by one or two Jon Kitna garbage time-like plays. Campbell threaded the needle on both touchdown strikes. The first was to fullback Marcel Reese, a versatile second-year pro who can best be described as "exactly what 49er fans erroneously claim Delanie Walker SHOULD be". Reese is an effective route runner when lining up as a wide receiver. Campbell's second touchdown was to Darrius Heyward-Bey, who is inconsistent, but in a good way (given that last season he was consistently dreadful).

Is Oakland a legit contender? In the AFC West, perhaps. But overall...well…at least they can win in the trenches. (The defensive line was every bit as dominant as the offensive line Sunday.) That makes them more stable than Tampa Bay. Still, at the end of the day, a team must be able to throw in order to win. The Bucs at least have an upstart first-round quarterback in Josh Freeman. The Raiders still have a controversy between Campbell (who played well Sunday but, throughout his career, has proved to be a robot programmed for mediocrity) and Bruce Gradkowski (a poor man's Jeff Garcia).


9.) NFL makes a good impression in Europe

So the Brits wound up seeing a pretty good game between the 49ers and Broncos. Dammit all. The hope to avoid having to share the truest American sport with the rest of the world looks more futile than ever.

On Sunday, after a slow start that probably still had Wembley Stadium's soccer-acclimated sellout crowd of 83,000-plus on the edge of its seats, the offenses for both teams came to life late in the second half. Thirty of the game's 40 points were scored in the fourth quarter. Both teams relied on their usual identity. For the Broncos, that meant riding Kyle Orton (28/40, 396 yards). For the Niners, that meant riding Frank Gore (29 carries, 118 yards).

Though a compelling contest it was, and though interesting is the debate over whether it was a mistake for Josh McDaniels to keep the team in the U.S. until Thursday (three days longer than the Niners), the story of this game is the success of the NFL's British venture. Not only did the game sell out, but approximately 38,000 fans filled Trafalgar Square for an NFL block party Saturday. Earlier in the week, Roger Goodell said the league's goal is to put a team in London. Maybe that's just lip service the Commissioner had to pay in the days leading up to this game, but if the world has learned anything the past 10 years, it's that in whatever way globalization can happen, it will.

So start getting your minds wrapped around it, football fans: the NFL is only going to ingrain itself deeper in London. And, perhaps, other foreign markets. Maybe you're cool with that. If you are, great. If you're not (like me), Sunday was just another reminder that you'd better start getting used to it.



10.) Quick Hits

***Todd Haley went for it again on fourth down Sunday. This time the Chiefs had fourth-and-two and were deep in Buffalo territory. For the past few weeks, people have been commenting on Haley's gutsy fourth down calls. But we're discovering that this is just the way the man coaches. He's attempted 11 fourth downs this season, tied for fourth most in the NFL. The difference is that very few of them have been of the desperation variety. Haley believes it's a numbers game, and he usually makes the decision to go for it a few plays before reaching fourth down (to help the play-calling, he tell offensive coordinator Charlie Weiss ahead of time when it's four-down territory). It's an unusually aggressive approach.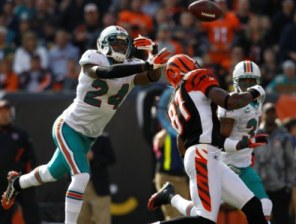 ***Interesting that the Jets had Darrelle Revis play left cornerback in the first half and then had him shadow Greg Jennings in the second half. Revis was effective in both cases – it was just fun watching Rex Ryan change up the game plan.

***Steve Tasker, who spent the entire overtime period between the Chiefs and Bills trying to add a soothing calm amidst the lovable screaming of Gus Johnson, had a great line about Ryan Succop's first field goal attempt in OT. When Succop's ball got caught in the wind and suddenly hooked sharply left, Tasker said "that ball had a left turn signal on it".

***The Rams wore their blue and yellow throwback uniforms to honor the retirement of Isaac Bruce's number 80. It'd probably be good if we started debating Bruce's Hall of Fame credentials now. Given the length of the Art Monk trial, and the Andre Reed-Cris Carter-Tim Brown dilemmas, Bruce's candidacy is going to be particularly complicated.

***Turns out cornerback Sean Smith didn't fully regain his starting job for the Dolphins this week, but against the Bengals he played extremely well. Smith got some help from an erratic Carson Palmer on the game-sealing interception, but before that, he was very active covering receivers with underneath technique.

***I'm not affiliated with the San Diego Chargers, but even I felt a little awkward seeing Vincent Jackson standing on the sideline in street clothes Sunday.


For more NFL news, rumors and analysis, follow @cbssportsnfl on Twitter and subscribe to our RSS Feed.