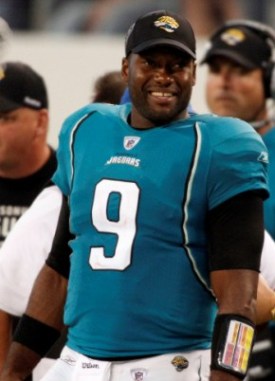 Posted by Josh Katzowitz
If you were to stop an obvious, but random, NFL fan on the street today and ask him or her how the
Jaguars
were faring this season, he or she would probably tell you something like this, "Oh, they're totally not very good. I watched them on Monday Night Football a few weeks ago (against the
Titans
), and they absolutely sucked. Hey, aren't they going to fire their coach?"
Even in Jacksonville, I imagine many of the responses would be sort of similar.
So, when you look at the standings in the AFC South today, and you see that the Jaguars – MY GOD! – have a winning record and, at 5-4, are only one game behind the
Colts
for first place, it's a stunning piece of information.
And then you think back to Week 4 when the Jaguars actually beat Indianapolis, and you might think, "Man, how in the heck are they doing this?"
The somewhat surprising answer is QB
David Garrard
.
Garrard has never before been considered an elite NFL quarterback (and for good reason) but he's quietly having a solid season – a 69.4 completion percentage (third-best in the league), 15 touchdowns, seven interceptions, a passer rating of 104.9 (second-best in the league). And the past two weeks, he's played out of his mind, completing 41 of 52 passes for 602 yards, six touchdowns and zero interceptions.
What in the hell has gotten into Garrard, anyway? And is he an elite quarterback? That second query is the question posed by the
Florida Times-Union
today.
From the paper:
When the question was posed on Monday … Jaguars coach Jack Del Rio immediately backed off. He wasn't ready to go there because he knows Garrard's history is more roller-coaster than sustained excellence.

In other words, Garrard's boss wants to see an extended period of success, not a four-game snapshot, before putting his quarterback in a category with Peyton Manning, Tom Brady, Drew Brees and Philip Rivers.


Del Rio praised the "decisiveness" of Garrard doing a better job of getting the ball out early. He lauded him for playing at a "high level," but he wasn't biting on him being an elite quarterback. Smart move.
It
is
a smart move, because Garrard has not shown this kind of sustained excellence before. Can he keep it up? Probably not. But the fact we're even using the words "David Garrard" and "elite quarterback" in the same sentence in a non-sarcastic way is not something anybody is used to doing.
For more NFL news, rumors and analysis, follow @cbssportsnfl on Twitter and subscribe to our RSS Feed .