Posted by Andy Benoit
We'll take one more look at the
Vincent Jackson
trade saga and then move on -- hopefully for good.
There are two ways to look at why Jackson did not get traded Wednesday: A.J. Smith took his hardball act too far, or the Minnesota
Vikings
were too cautious. Your opinion depends on your view of the Vikings.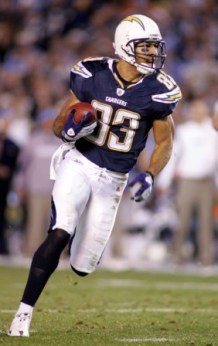 First, let's make sure we're clear on what happened. John Clayton of ESPN.com has
an excellent piece
covering what went down with all the teams interested in trading for Jackson before Wednesday's deadline. Five teams have been in the V-Jax running: Washington, Detroit, St. Louis, Seattle and Minnesota.
According to Clayton's sources,
Braylon Edwards
' DWI arrest prompted the owners of the
Seahawks
and
Rams
to pull out. (Jackson is currently serving an NFL-mandated three-game suspension for multiple DUI's; the PR hit for acquiring him this week would have been too significant). From the sound of things, the
Lions
and
Redskins
pulled out early on – either when A.J. Smith was demanding a first- and third-round pick for Jackson, or when he lowered that demand to two second-round picks (which is what the
Broncos
got for
Brandon Marshall
).
After the season started, the Vikings started making calls about Jackson. This week, they were the only team seriously vying for the wideout's services. By then Smith was willing to trade Jackson for a second- and fourth-round pick, as long as the Vikings would sign Jackson to a one-year, $6 million contract.
But the Vikings didn't want to give up the picks. And that's where the debate begins.
It's amazing how much value teams place in draft picks. In many ways, it shows arrogance. Do the Vikings really think they're gong to find a player as good as Jackson in the second or fourth round? Granted, they found
Sidney Rice
in the second round a few years ago. But they also found safety
Tyrell Johnson
and offensive lineman
Ryan Cook
in the second round. Neither is a starter. Jackson has already proven to be a star.
Besides, word is, the Vikings were willing to trade a
second-rounder and a compensatory pick
. That means they wouldn't budge on the fourth-rounder. Since when is a fourth-rounder a deal-breaker when talking about a Pro Bowl caliber receiver?
Maybe, deep down, Minnesota did not want to pay $6 million for 10 games of Jackson's services. That would be make sense…if they weren't paying $20 million for
Brett Favre
's services. They've put all their chips in the 2010 basket. Why abandon that method now?
In all likelihood, the Vikings must not have thought they could (or would) sign Jackson to a long-term contract after this season. If that's the case, then a second- and fourth-round draft pick could be too much to surrender. But again, they were willing to part with the second-rounder…
By passing on Jackson, the Vikings are making a few risky assumptions, such as:
a.) Sidney Rice being a long-term No. 1 (he was great last season, but he's shown questionable work ethic at times, and his hip injury raised a lot of eyebrows)
b.)
Bernard Berrian
being a solid starter (safe bet, though Berrian has certain flaws that defenses can exploit at times)
c.)
Percy Harvin
being a long-term playmaker (you may have heard he has some migraine issues).
d.)
Greg Camarillo
being a viable possession receiver (he is, but why in the world has the newly-acquired ex-Dolphin not played more thus far?).
Of course, maybe we should be criticizing Smith more than the Vikings. If Jackson walks away as a free agent in 2011, as many expect, the Charges would receive a compensatory third-round pick in 2012. Maybe Smith should have lowered his asking price to a simple second-rounder for 2011.
For more NFL news, rumors and analysis, follow

@cbssportsnfl

on Twitter

and subscribe to our

RSS Feed

.