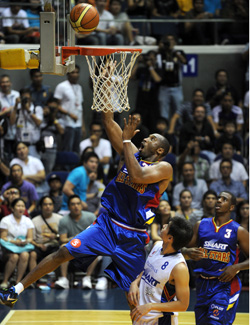 By Matt Moore
When
Kobe Bryant
,
Kevin Durant
,
Derrick Rose
and their merry band of locked out NBA players headed to the Philippines last weekend, the reception was enormous. The crowd went absolutely berserk for the players; the entire country did. And it turns out the top three stars made a pretty penny on the deal as well. From
SI:
Star-studded exhibition games like the two taking place in the Philippines this weekend are proving to be quite profitable as well, with one source with knowledge of the deals saying the Lakers Kobe Bryant, Oklahoma Citys Kevin Durant and Chicagos Derrick Rose are being paid more than $400,000 apiece for their weekend of work reminder: tax-free.
via NBA stars looking abroad in earnest - Sam Amick - SI.com.


So for two games, in which they weren't exactly going full-bore, these guys got paid $400,000 over two days. Take, say, two hours prep time with meet and greets, two hours for the game, an hour afterward for meet and greet and shower, top it off at five hours per day, call it good? So this weekend, they made $40,000 an hour.
An hour
.
Look, I'm not saying that professional athletes aren't overpaid in the grand scheme of things. I'm not saying that doctors, lawyers, or here's an idea, school teachers shouldn't be paid more than guys who play a game for a living. But if the owners want to make the argument the players are overpaid, a quick glance around their global market value will give you a pretty good idea of how valued these players are.
That's still an absurd amount of money. It makes you wonder why no one tries to set up a whole number of these around the globe. You could just have traveling teams of All-Stars who just blister the local guys. They can travel the globe at a fast pace. Maybe at a trot. Hey, we could even name them that! The Globetrotters!
...
I'll stop now.
Anyway, breaking news, NBA players paid lots of money.