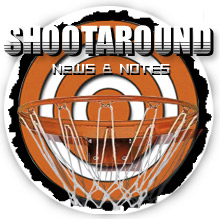 Posted by Royce Young
Want to eat lunch with a billionaire? Jump on Ebay and top the current bid of $2,325 and you can have a nice sit-down with Mark Cuban. The proceeds to the auction are going to the Adrienne Shelley Foundation, a group supporting women filmmakers.
Chris Douglas-Roberts tweeted last night:

"Now I can jus focus on getting W's & FGM. & STEALS. Y'all know I was top 15 in the league in steals before that guy stop playin me? Smfh!!!" That "guy" was Kiki Vandeweghe last season in New Jersey, if you were wondering.
Carlos Boozer on trash-talking with Miami : " We definitely trash talk a little bit, but we're excited. That's what makes the game so good. I'm friends with most of the guys in the NBA and you want to have bragging rights, especially me because I live in Miami in the off-season. So when I go down there, I want to be able to say we kicked their butts. This year, it's going to be different. They're going to want to say they kicked our butts. Those games are going to be lively and exciting… At the end of the day, we know that the Lakers are holding the championship trophy. Championship is going to go through LA. But as a competitor, you want to play against who is supposed to be the best team and you guys, not necessarily you guys, but people are dubbing the Miami Heat as the next best team to the Lakers. As a team that wants to through the best, to be a champion, we look forward to playing the Miami Heat and we look forward to playing the Lakers and Celtics and every other team that's supposed to be better than us."
Phil Jackson used the word "collude" to describe how the Heat got together. Matthew Bunch of Hot Hot Hoops looks into it: "Collusion is an interesting and, I'm sure, purposeful word choice. Collusion is an oftentimes illegal agreement among entities to limit market. All acts effected by this means are considered void. Obviously, the matter of the NBA pursuing tampering or collusion against the Miami Heat or its players is virtually dead, but Jackson is always known for playing a psychological game. Sometimes it's the refs, sometimes it's the league and maybe this time it's the league's fans, painting the Lakers as the good guys against the tainted Heat."
Gene Wang of The Washington Post: "Clad in a new No. 9 jersey, a fully bearded Arenas went about his media obligations without so much as a grin. The staid demeanor, like his updated number, represented a vast departure from his former Agent Zero persona, when Arenas carried himself as the exuberant face of the franchise and welcomed the adoration and attention associated with that standing. Arenas did not address specifically his tribulations from last season but mentioned a 'breath of fresh air,' signaling an inclination to redirect his energy toward remaking his image after the franchise reacted to the suspension by quickly removing all likenesses of him from Verizon Center. Part of that purge included an oversized banner hanging on the arena's Sixth Street side and all Arenas jerseys in the team store. 'Any product you own, if something happens to it, you got to do what you've got to do to save your company, so I understand it,' Arenas said. 'Now we've just got to move forward.'"
Zach Harper for Hardwood Paroxysm getting sciency with the Lopez twins: "If this theory is true, and I believe science is telling me that it is, then the theory of relativity will help my uneasiness with the Lopez twins. Even though Brook and Robin have different hair, different uniforms and probably different versions of Thor that they enjoy, they're still so identical that it creeps me out. It gives me some solace to know that Brook is an offensive force while Robin is the answer to many of the Suns' prayers for a defensive presence in the middle. I'm fascinated at the idea that the two of them excelled at very different parts of the game that probably heightened their skills even more."
Mo Williams talked openly about his retirement thoughts at media day: "You're at the beach and you're walking right to that water and you can feel it on your toes and you're a kid and your momma grabs you and says 'nope, you're not going into the ocean today,'" Williams said. "You're looking back and you're like 'wow, I was almost there.' You don't know when you'll be down by the ocean again."