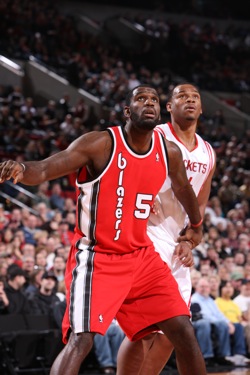 Posted by Royce Young
As suspected, it doesn't sound like
Greg Oden
will be ready for the beginning of the NBA season. At Portland's media day,
he said simply:
"I won't be there opening night." Bummer.
Oden talked at Blazer media day about having "good days and bad days" with his injured left knee. If you forget, he underwent surgery on a fractured left patella last December. And I guess you could say recovery has been somewhat slow.
Rich Cho previously said Oden was "pain-free" but Oden talked at media day about experiencing pain in the knee.
Dwight Jaynes enlightens us as to what's going on:
"That's before he got patellar tendinitis," Cho told Jaynes. Bummer, again.
Remember, recently a
Blazers' scout said the team hoped Oden would be available for maybe 65 games this season
. And while that's still obviously possible, opening night just won't be one of those games.
For whatever reason, Oden just can't seem to get healthy. Whether it's just something like patellar tendinitis or there's a larger issue involved, Oden's got knee problems. And that's not good for a seven foot big man.
It's definitely not over for Oden and he may just need some extra rest and rehab. Remember, he's just 22 and plenty of players have come back through leg and knee injuries. The fear is that there's something substantial, something with long-term effects in there. The Blazers are doing the right thing and taking everything slow. Oden says he won't be ready for opening night, but the reality may be he's not ready until December or January.
Patellar tendinitis is sometimes referred to as "jumper's knee" and is common to players in a sport that demands lots of jumping. You know, kind of like basketball. Or compeitive jump-roping. But jumper's knee can be caused by overuse, muscular imbalance, misalignment of leg bones or being overweight, among a number of other things.
For Oden, some of those issues are probably in play, but it didn't list one that applies: bad luck.