A notebook of Miami Heat quotes before Game 4 of the NBA Finals. Posted by Ben Golliver.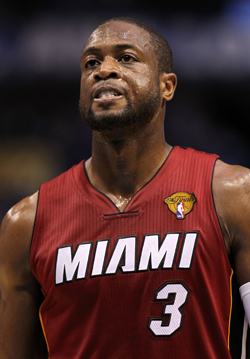 Dwyane Wade Shifting Gears
Nobody changes pace or shifts gears more smoothly than Miami Heat guard Dwyane Wade. On Tuesday morning, Wade said that on-court silkiness doesn't apply to his leadership style.
"I'm zero to 60," Wade said. "It's either one or the other for me."
During Game 3, Wade was quite vocal, yelling instructions at his teammates, including LeBron James.
"Last game it was 60. Today, right now, it's zero. We'll see what the game brings. Leadership style can't change because of who you're talking to."

"Dwyane is a very passionate guy," Heat forward Chris Bosh said. "Once he gets going, he's in the moment. He'll surprise you sometimes. Any time he's going to voice his opinion, he's right. He just wants to win, and he wants the best out of us. He demands it. We demand it out of each other."

Bosh said the tongue-lashings never bother him. He's used to it.

"I've been getting yelled at since I was 10 years old," Bosh said. "It's all because we want the best out of each other."
Heat guard Mario Chalmers, arguably the Heat player who catches the most grief from his teammates, said he is cool with all the yelling.
"They're just giving me constructive criticism," Chalmers said on Monday. "Telling me how to do better. It's nothing like they're trying to show me up. It's all positive things."

Later, he admitted that it can get tiresome.

"Once they say it, and they keep saying it, you're like, 'OK, I get it.' But I love my teammates."

If there's a silver lining for Chalmers it's that Wade and James can take as good as they give.

"They're stars on the team, but you can still talk to them and give them pointers and tell them what they can do too," Chalmers said.

LeBron James Loves Defense

On Tuesday, James was asked whether the size and length that he and Wade present on the perimeter are what makes Miami's defense so great.

"We're not the only team with size," James replied. "Honestly, you have to want to play defense. Me and D-Wade aren't the only guys with size on the perimeter. We love to play both sides of the floor. You have to be dedicated to playing both sides of the floor.

"Defense, that's what I'm about. I love to play that side of the floor."
Wade: LeBron Isn't Shrinking
Following Game 3, CBSSports.com's Gregg Doyel asked James if he was shrinking from the moment during the fourth quarter. James replied that he was a two-way player and that Doyel needed to go back and watch the tape. The exchange led to all sorts of online chatter.

Wade was asked for his thoughts on the back-and-forth on Tuesday.

"My reaction to it? First of all, I thought he answered it great."

As for asking the question to James about whether he was shrinking from the moment during the Finals?

"Some people like to be on TV," Wade said.
Ready For War In Game 4
Winning Game 4 would give Miami a commanding 3-1 series advantage with three opportunities to close it out, two of them at home. As you might expect, Miami Heat coach Erik Spoelstra wasn't about to look ahead.
"We have to come in with a tough-minded disposition tonight," Spoelstra said. "A series is about getting to four wins first. All we're intent on doing tonight is taking care of this game. Concentrating on that. It will be a dogfight as we can expect every game to be. It will be possession basketball decided in the last few moments."
On Monday, Bosh said he too was ready for an all-out performance from Dallas.
"It's going to be two teams playing desperate basketball," Bosh said. "We can't take our foot off the throttle."
Wade said the Heat needed to be prepared for Dallas' ability to score in bursts.

"This team is so potent offensively we don't want to give them too much confidence," Wade said. "Because when they start hitting shots, when it rains it pours around here. We want to make sure our defensive principles stay the same no matter what."

On Tuesday, James cautioned that a Game 4 win wouldn't be enough to put the Mavericks down.

"I don't think the life will be out of them [if they lose]," James said. "Every game for us will be a must-win. We'll be coming out with that same desperation we had in Game 3."
Spoelstra's Long, Steady Road

Spoelstra predicted another tight, grinding game on Tuesday night. His logic: The Heat hasn't known anything but that during the entire 2011 playoffs.
"We've been through a lot of tough series already, where each game was contested," Spoelstra said. "We haven't really had a game in the playoffs that we felt we were able to really extend. Even the games that we won, it was within the last three or four minutes of the game. So we've had all of our games against tough opponents playing possession basketball. Every shot, every rebound, every loose ball matters. And then you have to find some way to close it out at the end."
Tuning In
Bosh was asked whether he thought Miami's Big 3 was responsible for the huge TV ratings that the 2011 NBA Finals are drawing. To Bosh, the event itself is bigger than the participants.

"It's the Finals," Bosh said with a smirk. "I'd be watching."