Kobe Bryant says his knee is healthy, questions in Houston after a slow start, two young point guards shine on Saturday, and former all star Maurice Lucas passes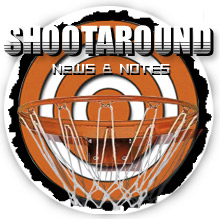 away. Links from around the NBA. Posted by Ben Golliver.
Los Angeles Lakers guard Kobe Bryant says his knee is 100% healthy, but he's a little testy about it. Writes Dave McMenamin of ESPNLosAngeles.com: "Bryant told a FOX Sports West reporter during an interview shown on the Staples Center video board that he is all the way back from offseason surgery to his right knee and didn't want to be asked about it again. Bryant was later asked if his statement was accurate by reporters in the locker room and he stood by it. 'Yes, so leave me the hell alone about my [expletive] knee,' Bryant said."
Last week, Boson Celtics guards Delonte West and Von Wafer got into a scrap after practice. In a video posted on Boston.com, West attempts to downplay the incident. "It's not that serious. We've moved past that, you know. We're competitive guys being competitive. Hopefully, it's for the benefit of the team. There's nothing wrong with healthy competition and pushing each other to get better. But things went a little too far."
Washington Wizards rookie point guard went off huge against the Atlanta Hawks on Saturday. Despite the loss, CJ Hempfield of BulletsForever.com liked what he saw. "John Wall had stretches during the 3rd quarter in which he looked unstoppable. Not only was he blowing past people on 1-man breaks but he also began to blow by defenders in the half court as well as hit a jumpers. He began to show flashes of what he might become in the future and the prospects are awesome."
In other electric point guard news, Brandon Jennings of the Milwaukee Bucks, one of the finalists for last year's Rookie of the Year award, notched his first career triple double on Saturday. Alex Boeder of BrewHoop.com was suitably impressed. "Jennings pitched a near perfect offensive game, getting all Chris Paul on the Bobcats to the tune of 20 points, 10 rebounds, and 10 assists on 6-8 from the field, 3-3 on threes, and 6-8 from the line. He bursted with channeled enthusiasm for the game of basketball tonight, looking like the most excited guy in pregame introductions, and then directing an offense that owes him a thank you card signed by all. As a game manager, this was about as good as a 21 year-old can get."
Rob Mahoney takes a look at some Miami Heat numbers for the New York Times. " At first glance, turnovers would appear to be one of Miami's most glaring flaws. James and Wade combined for an abysmal 14 turnovers against Boston on Tuesday, and James followed that sloppy performance with another nine turnovers of his own against Philadelphia. Something to note, though: Miami has been turning the ball over more often than it should, but it won the turnover battle in both games. Miami posted a lower turnover rate than both of its first two opponents (the Heat had a -3.3 turnover rate differential against the Celtics and a -3.2 differential against the 76ers), suggesting that while turnovers are a problem, they're not necessarily the problem."
We noted last night that former NBA all star power forward Maurice Lucas passed away Sunday at age 58. His New York Times obituary. "Lucas was a rugged defender and an outstanding rebounder, capable of a sturdy pick and a timely basket on offense. Possessing a glare that presumably intimidated many an opposing player, he became the prototype power forward when he emerged as a star for the Trail Blazers in the late 1970s."