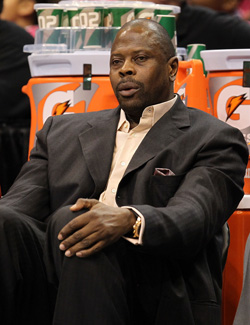 Patrick Ewing hints at talks for Bobcats coaching gig.
Posted by Matt Moore
Patrick Ewing has hinted at discussions with Bobcats chairman and CEO Michael Jordan regarding the head coaching job. Interim coach Paul Silas is 2-0 since taking over the job, but there's an "interim" tag firmly attached to his title. Meanwhile, the
New York Post
asked Ewing if he had talked to Jordan about the gig.
Asked if Charlotte had called him, Ewing smiled and said, "They might have."
When pressed, Ewing said, "He might have been. I talk to Michael all the time. There definitely was a phone call. It depends on what we talked about."
via
Ewing in mix to be Bobcats head coach - NYPOST.com
.
Ewing has interviewed for several gigs but has never gotten far. There are a number of questions, not the least of which is why he has been unable to coach
Dwight Howard
into having the kind of post-game befitting a superstar of his stature. Ewing's relationship with Jordan (the two are close friends despite the hurting Jordan routinely put on the Big Fella in the playoffs) may be what he needs to get a foot in the door.
If I'm Ewing however, I'm thinking more about trying to aim for a gig that isn't loaded with huge longterm contracts on declining players, a poor history of drafting, no discernible superstar and a limited budget due to market restraints. But then I'm picky like that.