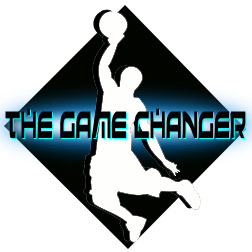 The Lakers drop the Bucks, A Milwaukee fan gets revenge, Wesley Matthews goes off for a career-high, The Grizzlies melt down at home and the Toronto Raptors didn't do their coach any favors. Posted by Ben Golliver.
Each game is made up of elements which help formulate the outcome. Monday through Friday, we'll bring you the elements from the night before's games in our own specialized version of the game recaps. It's not everything that happened, but it's an insight into what lead to the results you'll see in the box scores. This is
the Game Changer.
THE BIG ONE: REVENGE FOR BUCKS FANS, DESPITE THE LOSS
Who could forget the Los Angeles Lakers' trip to Milwaukee last year given the controversial calls down the stretch that enraged Bucks fans and the eventual
Kobe Bryant
dagger to win it? Tuesday night's rematch wasn't as drama-filled, but that doesn't mean Milwaukee didn't exact a measure of revenge. First: the numbers. Los Angeles won by slapping a whopping 118 points on Milwaukee, thanks to 31 points from Bryant and four other Lakers in double figures.
Shannon Brown
really got it going off the bench, connecting for four three-pointers on his way to 21 points.
Andrew Bogut
and
Drew Gooden
did their part for Milwaukee, combining for 34 points, 31 rebounds and five blocked shots, but the Lakers' perimeter attack was too much. The Lakers cruised to the victory thanks to 10-16 from deep; take out Bryant and the rest of the Lakers combined for 10-12 from downtown. Anyway, back to the revenge play for Milwaukee. Here's video of Kobe Bryant's overtime dagger, that only came about because of some suspect calls that went L.A.'s way. And here's Milwaukee's "we didn't forget" moment, as a fan came well-equipped this year with a sign that reads "Stern Loves L.A." that found its way onto Milwaukee's television broadcast.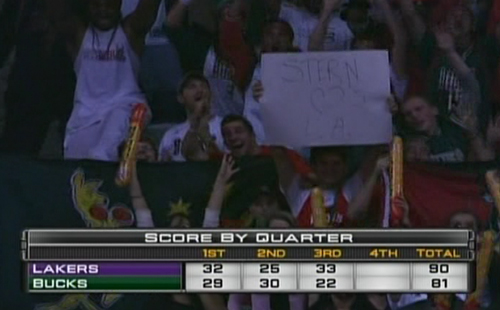 Sure, it's not as sweet a feeling as getting an upset win over the defending champs, but sometimes getting your point across feels just as satisfying.
GO-GO-GADGET LINES OF THE NIGHT:
Wesley Matthews:
A career-high 30 points, three rebounds, three assists, two steals, one block on 11-19 shooting, 5-10 from deep in 43 minutes in a Portland road win over Memphis.


Honorable mention to...


Josh Smith:
25 points, eight rebounds, two assists, one steal, SEVEN blocks on 9-16 shooting in 37 minutes in Atlanta's road win over Indiana.
Landry Fields:
21 points, 17 rebounds, one assist, two steals on 10-15 shooting in 38 minutes in a New York road loss to Denver.
THE GRIZZLIES GO DOWN:
By Matt Moore
Here's the trick with the Grizzlies last night. To describe them as dysfunctional is to fail to give credit to how functional they were last season. Watching them slump out of timeouts, barely rotate to their man, and generally sleepwalk through another loss, this time to the Greg-Oden-less, Brandon-Roy-less, Joel-Przybilla-less Portland Trailblazers, it really hit you how far this team has fallen in a few months. Mike Conley took 14 shots last night, which is more than any other Grizzlies starter.
The Blazers were more than happy to oblige Conley with being the offensive weapon, as long as Marc Gasol and O.J. Mayo didn't get in the act. Meanwhile, as Wesley Matthews poured in shots from every single spot on the floor, Rudy Gay simply couldn't be bothered to commit to defending him, running off screens or getting a hand up. After all, he had to carry the load offensively with the rest of the team out of sync. Tony Allen was brought in to shut down the Blazers' backcourt but instead spent most of his time going ISO.
Meanwhile, Andre Miller calmly and coolly backed down Conley and nailed a turnaround in his face. Mayo looks as if he's simply going through the motions in the hopes of accelerating what seems like an inevitable trade process, and Zach Randolph is drowning in his minutes while Hasheem Thabeet can barely stay on the floor.
But other than that, Mrs. Lincoln, how was the play?
DON'T MISS:
By Matt Moore


Mike Bibby's old. I mean old, old. It's time for him to move on, and yet, the old guy just keeps draining J's. Even as Bibby's pick and roll abilities on both sides of the ball erode into dust, his shot has become even more accurate. The
Pacers
for whatever reason saw fit to test that gunslinger's pistols and he wound up dropping 3 of 5 threes on them, including a trailing three pointer early which set the tone for the half. Bibby dropped 7 dimes tonight with zero turnovers, and yet will see nothing but scorn despite the win.
For being the most forgotten man in America, Bibby has certainly set himself up as a huge part of the
Hawks
' core.
WHIMSY:
Grizzlies center Marc Gasol has a left hand that is bigger than his head, one that could quite possibly be the largest human hand ever.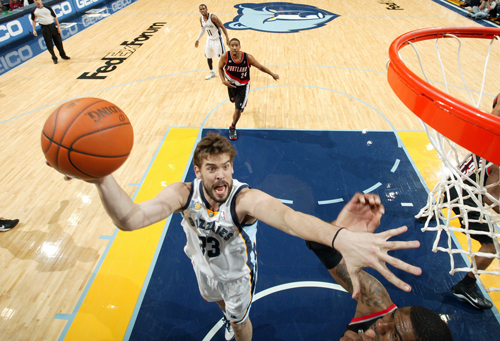 ONE FINAL THOUGHT:
The Toronto Raptors lost an ugly one, 109-94, to the Washington
Wizards
who were playing without rookie stud
John Wall
. After a defense-less 2-9 start that puts Toronto tied for the second-worst record in the league, calls for coach Jay Triano's job can't be too far away.

Follow F&R on Twitter at @CBSSportsNBA and check out our RSS feed . This has been your daily edition of the Game Changer.