Posted by Ben Golliver.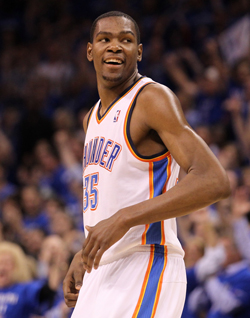 On Thursday,
Yahoo Sports detailed
the active role played by Boston
Celtics
All-Star forward
Kevin Garnett
in the ongoing labor negotiations. Garnett, who is 35 and set to make $21.2 million in 2011-2012, has been urging his fellow players to stand firm in collective bargaining negotiations despite the fact that he stands to lose more money than anyone not named
Kobe Bryant
if the coming season is delayed or cancelled.
Oklahoma City
Thunder
All-Star forward
Kevin Durant
said on Friday he wasn't capable of the same sacrifice that Garnett is prepared to make during
a Twitter conversation
with Nate Jones, an employee of the agency that represents him, Goodwin Sports Management.
"Would u give up 20 million for the better of the CBA?" Durant asked Jones. "I wouldn't do it."
Jones rightly pointed out that Garnett isn't necessarily "giving up" the money, but simply putting the money at risk in the name of leverage in the ongoing CBA negotiations. Jones
later clarified
that Durant "wasn't saying he thinks the players should just accept 50/50," a reference to the owner's current reported down-the-middle proposal for a revenue split. The National Basketball Players Association has been pushing for something closer to a 53 percent share for the players, which is still down from the 57 percent they were paid under the last agreement.
This is a very interesting and honest admission from Durant, but it shouldn't be surprising, even though he is one of the league's brightest stars. His statement isn't evidence that he's a "greedy millionaire" and it doesn't represent disloyalty to his union.
Really, it's evidence that his perspective is shaped by two key factors: the presence of restrictive rookie contracts in the just expired CBA and his age.
Durant, 23 years old and the NBA's scoring champ for the past two seasons, has had his salary set in stone by the NBA's collective bargaining agreement for his entire 4-year career.
Basketball-Reference.com
puts his career earnings at $19.5 million over four years and while he has numerous national endorsement deals, there's a decent shot that after taxes and expenses Durant doesn't have $20 million in the bank. In other words, all Durant is saying is that he wouldn't give up what amounts to his lifetime savings to secure a stronger collective bargaining agreement. That seems to be a fair position.
Garnett, on the other hand, has
banked some $270 million
in salary over the course of his 16-year NBA career. Six times he was paid more than $20 million per season; another six times he was paid between $16 million and $20 million. Over the past two seasons, Durant has been in the MVP discussion and has been of similar importance to the Thunder as Garnett has been to the Celtics. Durant took home nearly $11 million; Garnett was paid more than $35 milllion.
While $20 million is $20 million, the relative hit that Garnett would take from such a sacrifice is peanuts compared to the impact a similar sacrifice would have on Durant. It's quite possible that in 10 years, with an extra $150 million in contracts in hand, Durant would feel differently than he does today.
The worst thing that you can say about Durant here is that he's self-interested. That's no crime in the ongoing lockout or anywhere else in our country, a nation built on pursuing self-interest free of restrictions. NBA officials, NBA owners, rich NBA players, average NBA players, below-average NBA players, agents, stadium employees, media and fans have are all self-interested in this labor struggle.
The bigger issue raised by these comments is where non-stars stand in all of this. Durant, now that he has completed his rookie deal, has a lucrative five-year, guaranteed contract coming his way no matter what. Indeed, he is set to make $13.6 million next season. For players without multi-year contracts and without the skills to ensure large amounts of future income, the temptation to take whatever deal is on the table and get back to work is very real, and increasing by the week.
Garnett has, without question, put his money where his mouth is this week. But his money, frankly, is unimaginable to the average player. It's virtually impossible for Garnett to lead by example here because his earned income, despite public perception, is such an exception, rather than the rule.