The Philadelphia 76ers have reportedly turned down a Portland Trail Blazers offer for forward Andre Iguodala. Posted by Ben Golliver. .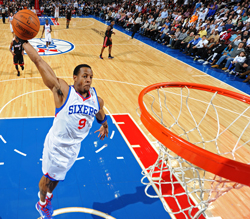 This side of Denver
Nuggets
forward
Carmelo Anthony
, no reasonably big man has found himself in more NBA trade talk than Philadelphia 76ers wing Andre Iguodala. Given his large contract, questionable fit with 2010 No. 2 overall pick
Evan Turner
, and general malaise in Philadelphia, Iguodala doesn't arrive in these rumors by accident. On Thursday, an
ESPN.com chat noted
that the 76ers reportedly turned down an offer for Iguodala from the Portland Trail Blazers, which included young forward
Nicolas Batum
and veteran center
Joel Przybilla
. The Blazers,
as noted by CBSSports.com's Ken Berger
, are actively engaged in trade talks in advance of the deadline. This activity is motivated by both a disappointing start to the season and owner Paul Allen's rumored preference for seeing immediate results rather undergoing another full rebuilding cycle.
Batum, a fan favorite French forward, is a long and gifted, and has shown the ability defend multiple positions and knock down the corner three. Under former general manager Kevin Pritchard, Batum was considered untouchable, and big things were expected from him entering this season. Unfortunately, his play has been inconsistent, and coach Nate McMillan moved him to the bench to make room for 2010 summer free agent signing
Wesley Matthews
. Still on his rookie deal, Batum represents an extraordinary value and still has significant untapped potential, given that he just turned 22 this week. He has shown the ability to play alongside a ball-dominating guard like
Brandon Roy
, and theoretically would be a solid pairing next to Turner, should Turner develop into the player everyone expects him to be. Przybilla carries an expiring contract, so this move would make sense financially for Philadelphia, allowing them to escape the money owed to Iguodala and improve their flexibility going forward. For Portland, Iguodala would represent an all-around, tested, veteran forward that the team has lacked for years. He would be able to provide some much-needed scoring, as Portland's offense has been anemic this year thanks to the injuries to guard Brandon Roy. What's more, he has played with Blazers point guard
Andre Miller
in Philadelphia, so there's a familiarity there. The Blazers lack a number one option, and while Iguodala isn't necessarily established on that elite level, he might be as close as Portland can reasonably hope to get. Blazers owner Paul Allen isn't afraid to spend money, but taking on Iguodala's long-term deal is not without risk, as he has yet to prove he can contribute meaningfully to a winner in the NBA and because Portland is already tied up long-term thanks to extensions for Roy and forward
LaMarcus Aldridge
. That Philadelphia reportedly turned down this deal, even though it represents good value, shouldn't be overly surprising. We're still very early in the trade season, and Portland is only likely to get more desperate, the longer they deal with Roy's absence and their team-wide struggles. Plus, Philadelphia will likely find themselves listening to a number of offers for Iguodala. Berger, for example, sees the New York
Knicks
potentially having interest
.