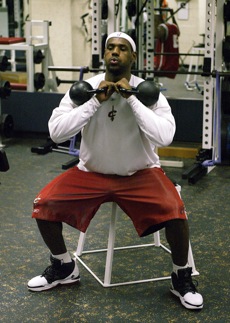 Posted by Royce Young
We all know professional athletes work out. It's completely necessary now, unless of course you're former major league pitcher David Wells who famously said he didn't. (And it showed.) But it's easy to assume that the guys came out of their mothers' wombs built like statues. In reality, a TON of work goes into it and it's not just on the practice court.
And with someone like
LeBron James
, he was put together like an NFL defensive end in
high school
. So again, it's natural to think that genetics just blessed him with a near flawless physique. However, this morning LeBron tweeted about his workout regimen. And it's pretty obvious from just the little bit he shared, that it's not for the faint of heart.

LeBron posted videos of him working out,
using something called a Versa Climber, shoulder pressing a ridiculous amount of weight, using a medicine ball and some free motion pull downs. And that was
just the first set.
I'm reminded of a quote
Kevin Durant
(who is famously an extremely hard worker) had to write in a notebook 200 times:
Hard work beats talent when talent fails to work hard
. Not a whole lot of people have the talent of a Kevin Durant or LeBron James, but when you combine that with hard work, you get a scary good basketball player.