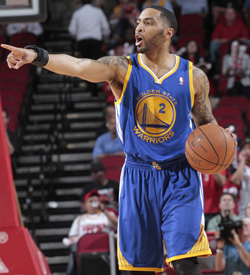 By Matt Moore


It was going to happen eventually. Despite the NBPA's understanding of how it plays with the public, despite the advice from the NBPA to its members not to say it, someone, multiple "someones" actually, was inevitably going to drop it. A player will always wind up saying "we have to feed our families" in a lockout, as if they are barely getting by paycheck to paycheck. It doesn't look good on anyone. And it doesn't look good on
Acie Law
, a fringe player who spoke to ESPN over the weekend:
"I understand why a lot of guys are considering overseas," Law said. "I'm considering some options overseas. These are our livelihoods. This is how we feed our families, and guys want to play. If they're not going to negotiate a deal, life goes on. Bills still coming in, we still have to provide for our families, so hopefully they get something worked out."
via
NBA players
Jarrett Jack
and Acie Law play in Dallas Fed X Pro-Am Basketball Classic - ESPN Dallas.
Law's probably not the first to drop the line during the lockout, but he's as good a case as any to showcase why players should never say it. Law is as likely a candidate to have a right to say it as any NBA player. Law is a young player who hasn't gotten the big second contract, and was cut by the
Grizzlies
in December before signing with the
Warriors
for the rest of the year.
But Law has made nearly $7.1 million dollars playing basketball over the past four seasons. It's certainly true that Law has financial obligations he arranged when he had a regular paycheck and that once those paychecks stop completely in the lockout this fall, he'll feel a significant pinch that may be severe depending on how he managed it leading up to the lockout. But the reality is this: he's part of a group of people whose every public statement is being considered in the light of the lockout, and that approach is never going to play with the general public. The owners have been the ones who have locked out the players, they're the ones who want more money, they're the ones asking for huge concessions. But still people reference the "greedy" players as if the players were the ones asking for a raise, as if this were a strike. Every PR mistake costs the union.
You're just not going to win any friends with the general working class by saying you're going to struggle to feed your family after making over $800,000 in a bad year. Not going to happen.