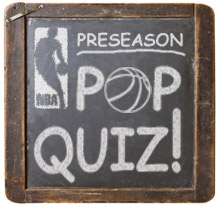 Fall is here, hear the yell, back to school, ring the bell
... Wait, we're almost to winter. What happened? Who cares, there's a season! The NBA season is right around the corner, and NBA training camp starts in just a couple weeks. To get you ready for the season, we've put together some pop quizzes. Pencils ready? We continue our
Pop Quizzes
with this question...
By Matt Moore
If
Dwight Howard
is a model of greatness to himself,
Greg Oden
is the mystery of a career lost, and
Andrew Bynum
is the intriguing incomplete whippersnapper, then there's a missing archetype. The hyper-competent, hyper-efficient, all-around veteran difference maker who has toughness a young guy can't have, the toughness that comes with maturity.
In the 2011 free agency, that archetype is personified by Tyson Chandler.
Tyson Chandler's story is pretty interesting. From a stone-handed bust for the Chicago
Bulls
to
Chris Paul
's alley-oop partner, Chandler was considered only valuable next to a guard like Paul as recently as 2009. He had injury issues, one of which derailed a trade to the
Thunder
. He wound up in Charlotte, had a forgettable year, and then made his way to Dallas. Boom.
He was the difference, in every way, for the
Mavericks
. For years the Mavericks were thought of as weak, as poor defensively, as lacking resolve, as lacking toughness around the rim. Chandler changed all of that. He attacks relentlessly and has the veteran sense to understand spacing to float and recover. If you want numbers, he allows just a 39 percent field goal percentage against the pick-and-roll according to Synergy Sports. He blocked 3 percent of all shots last year, including 19 blocks in 21 playoff games.
But it was more than just numbers. It was his approach. Not overly emotional, not tempermental, not prone to impulse. Making the right play, making it strong, and finishing alley-oop after alley-oop. 62 of Chandler's 266 makes last season were on pick-and-roll scoring opportunities and most of those were alley-oops. He and J.J. Barea had a very unique set of chemistry.
Chandler is a pro's pro at this point in his career, and in a league in desperate need of quality starting centers, he does all the things you look for a big man to do. Which is why he's got so many suitors.
Reports over the weekend indicated
that Chandler's biggest options were Houston, New Jersey (who want to sign every single free agent on the market), and the Golden State Warriors.
That's right, it's a new day in the Bay (so why don't you call it a day and eat some hay, what do ya' say, I just may) and Mark Jackson has vowed to turn the Warriors into a defensive-minded team. When new ownership and management came out alongside Jackson and said that they would be focusing on getting big men, it seemeed laughable. But now the Warriors are in a position to move from their constant rebuilding status of the past few years into at least "acceptably decent" territory. Chandler puts them lightyears ahead.
With a defensive minded coach, if Jackson can reach them, the Warriors have a dynamic point guard who can shoot from anywhere in
Stephen Curry
, a prolific scorer in
Monta Ellis
, a low-post scorer and volume rebounder in
David Lee
, a plethora of talented wings, a young raw big man in
Ekpe Udoh
who showed flashes last year, and a championship big man in Tyson Chandler. Having that kind of defense at the rim shifts the entire function of the team. If you don't believe a system and capable bigs can help a team with poor defensive talent, I direct you to the fact the Chicago Bulls had one of the best defenses in the league last season and started
Carlos Boozer
while bringing
Kyle Korver
off the bench.
Chandler is likely going to draw a King' ransom based on his reputation, the weakness of this free agency class, the weakness of this league at the center position, and the teams currently in the market. Golden State is a big-market team looking to put itself on the map with new owners, a new coach, and players they can trade, most notably Ellis, who has been on the block for what feels like a decade.
Chandler is 29, if he's given a near-max extension or, even worse, a max, he'll be 32 when the deal expires. That's a quality length of time. Golden State has tried going young and athletic, now it wants to get serious.
It doesn't get much more serious than Tyson Chandler.
The Warriors could be in position to make a serious move in 2011-2012.