NBPA Executive Director Billy Hunter says NBA players "won't cave" and are prepared for a work stoppage. Posted by Ben Golliver.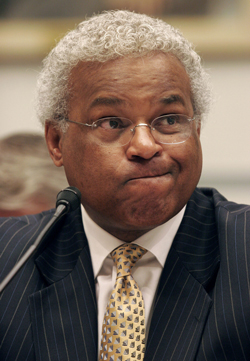 Surveying the last year or so of headlines concerning the NBA's ongoing labor dispute, it's striking how one-sided the discussion is. NBA commissioner David Stern has dominated the public discourse, with NBPA Executive Director Billy Hunter and NBA Players Association President
Derek Fisher
speaking only occasionally and almost always with a vague optimism and commitment to the process.
That pattern seems to be shifting this week, as Hunter has shown a more forceful, combative side.
In
an ESPN.com interview
, Hunter disputed Stern's statements that the two sides have agreed on the owners' financial situation. Why is that a big deal? Because that was the
biggest headline
coming out of Stern's All-Star Weekend address, a statement that would provide hope because it would allow the negotiating process to begin. The two sides can't truly negotiate unless they see eye-to-eye.
Almost as important as that statement of fundamental difference is that Hunter also made it clear that the players were ready for a long battle.
Hunter dismissed the idea that players are unprepared to weather a work stoppage.
"That's the belief," he said. "That was put to rest and proven false in [the lockout of] 1998. And I can assure you that if the owners continue to push for the deal they've been pushing for for the last two years now, that the players will take a stand. They won't cave. And they'll ride through this lockout." Hunter said he does not yet know what's driving the league's tough stand.
"We're trying to determine whether it's all rhetoric, or if it's real," Hunter said. "We'll only know in time. We're not in a position right now to say. David [Stern] hasn't given me any indication for me to conclude that it's rhetoric. He seems pretty strident, and pretty much dug in in terms of where he is.
In
a Yahoo! Sports report
, Hunter also seemingly dismissed many of the owners' desired changes in a new Collective Bargaining Agreement by pointing out those changes were already proposed and rejected in previous bargaining sessions dating back years.
"Ironically, a lot of the same things that David and the owners are demanding now are identical to what they were demanding in '98. He said, 'I think every one of my owners should have a guaranteed $10 million profit per year. I said, 'Bull… . 'What they have is predicated on how they manage their teams. Nobody forces them to sign anyone.
"It's the same argument: 'We've got these guys who got six-year deals and I've got to pay this guy …' Well, [expletive] it. Why did you give it to him? Nobody put a gun to your head."
Without question, that's the sound of heels being dug into the ground. For those hoping for a quick, painless resolution to the labor negotiations this summer, those words read like nails on a chalkboard.
The players and their labor executives are entitled to their bargaining position and the public restraint they've showed simply couldn't last forever. A one-sided media presentation of the dispute is certainly not in their best interests.
Something to watch closely here will be Stern's response (or lack of a response) to Hunter's direct challenges. By disputing Stern's major All-Star Weekend statement, by implying that he believes the owners could be "all rhetoric" and by upping the intensity of his side's rhetoric Hunter is calling Stern to the carpet a bit here.
One thing is for sure: If Stern gives Hunter the Stan Van Gundy
treatment
, we could be in for a long fall and winter.