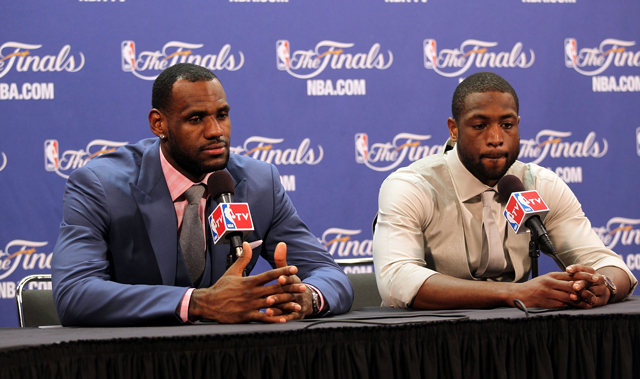 By EOB staff
Dwyane Wade
's comments to Yahoo! Sports in
an article published Friday
riled everyone up. Player advocates and hardcore capitalists leapt to defend the comments since, by any and all accounts, he was correct. Meanwhile, pretty much everyone else mimicked vomiting since approximately no one wants to hear a player making $16 million per year talk about being underpaid. It should be noted that not once in the excerpted comments in the article did Wade say the word "underpaid." He was just responding honestly to a question asked of him.
But is honesty in this instance, with the surrounding circumstances, appropriate? The league and the players' union met Friday afternoon in the midst of a lockout that threatens the entire 2011-2012 season. The players' union is desperately clinging to unity from all its members, role players and stars alike, and Wade very seriously undermined that by essentially saying "the people come to see the superstars." The problem is that means the people do not come to see the role players, who make up the vast majority of the league.
In
a poll on the CBSSports.com FaceBook page
, 340 people (90+ percent) voted "no" on the question of "Is Dwyane Wade or any other NBA star worth $50 million a year?" That's a ridiculous percentage, and shows you where people stand on athletes. The players have come a long way in this lockout in terms of convincing people they're right in this dispute, but comments like Wade's threaten to wipe out that good will. So was Wade right or wrong to speak his mind on the issue, when prompted? We decided to debate it in this week's roundtable. We've inserted some tweets from the conversation Friday we thought were relevant.
Matt Moore:
My problem is not that Wade's wrong. He's 100% on target. There's almost no way to argue with the fact that superstar players would garner more on the open market without a cap. My biggest response, though, is that that money that he thinks should go to him comes from the players who make him a superstar. Without the Udonis Haslems, without the, heck,
Mario Chalmers
of the world, Wade doesn't win and then isn't a superstar. Does he expect those guys to make what they make now AND for him to make $50 million? There's got to be a line somewhere, and this from a guy who has been solidly anti-owner throughout the lockout.
The second issue is this. Could Wade's timing have been
any
worse? We're on the verge of Judgment Day in the negotiations, the owners are starting to bend a bit, the union is holding together a fragile peace with the extremist agents, and Wade fires out an interview that manages to upset owners saying they're worth more than they're paid and the role players who make up the majority of the union. Seriously, you couldn't have waited another three weeks to go pimp your new sponsorship court-traction thingie?
The point remains that Wade severely hurt the PR war that the players were so close to actually winning this time. Even if he was right.
via
Twitter / @noamschiller: The point remains that Wad ...
.
Ben Golliver:
The timing is terrible and the underlying message totally undercuts the whole idea of having stars in the room to show solidarity. There's no worse way to show solidarity than to point out the fact that the only thing keeping you from making 10 times your brethren is that dang annoying salary cap. I almost feel sorry for Billy Hunter. Brutal. Going back to Wade's statement, though, for a moment: he is definitely right. His point has really crystallized during this offseason for me, the idea that the real drivers of massive, widespread interest are superstar players and franchise brands. Replacement-level players have never felt so replaceable, not when their "Lockout League" draws literally dozens of fans and not when the overseas offers are coming in at a tiny fraction of what they would make in the NBA. You make a great point that stars need scrubs and vice versa but Wade is factually correct to say that the earning power of elite players like himself is massively crippled by the current NBA financial system. It probably would have been a good idea if he had paid a bit of respect to the league's machine and his fellow teammates for helping him become elite in the first place, though.
This is pretty simple, actually. If you make $15.5 million a year - before counting the T-Mobile money - you're not underpaid.
via
Twitter / @charliezegers: This is pretty simple, act ...
.
Matt Moore:
Can he honestly reasonably expect an NBA owner to be able to afford $50 million and field a team? I mean, look, I've criticized the league as much as anyone for how they've wasted their revenues outside of player salaries, and very few buy the statements from the league regarding losses. But the NBA doesn't make that much. It's the third most popular pro sport and that has consequences. I guess to me there's a difference between market value as established by their earning potential and market value based on the actual market they operate in. And their NBA market value isn't extremely overvalued. Maybe a bit. Not extremely. It's a good thing that public perception has played zero part in these negotiations, because even though Wade never said the word "underpaid" once, the public backlash is not going to be kind

Ben Golliver:
Sure we (and Wade) can absolutely expect an NBA owner to afford $50 million in a system with no salary cap. Not every owner will be able to keep up but there are plenty who would secretly relish the opportunity to spend without rules getting in the way. That's why the cap exists in the first place: to restrain owners from overspending wildly in the pursuit of a title.
To your point, though, I'm not arguing that a select group of stars is getting a totally raw deal here. We've seen this summer that the NBA market worth of a superstar is far greater than the same player's worth anywhere else in the world and it's not close. Asking superstars to give up some percentage of their total theoretical earning power to help support the entire system and ensure that the average salary for non-superstars remains healthy isn't a war crime. And that's why, to me, Wade doesn't sound like he's whining about it. I think he and other stars realize they still have it better than 99.9% percent of Americans and 99.9% of their fellow professional athletes.
Royce Young:
Here's what sticks out to me most about Wade's comments: It's just really illustrates how far from reality all these players are. And rightfully so. Whether we want to accept it or not, an NBA player isn't your normal member of society. It should've started making more sense during these labor negotiations -- the world we all live in isn't the same as the one the owners and players live in. It's just the truth.
does that mean that non-superstars are worth much less than paid?
via
Twitter / @crossoverdrib: @EyeOnBasketball @WojYahoo ...
. Which is why I don't blame Wade at all for saying what he thinks. Especially since its truth. We all gripe about billionaires arguing with millionaires about money during a time where the country has record high unemployment rates, but that's OUR world, not theirs. Once we all start accepting that a little more, the less frustrated we'll be the next time some NBA player talks about needing a new contract so he can feed his family.
Matt Moore:
Sorry, I'm not willing to excuse them as some sort of God-like beings. Dude puts his pants on one leg at a time like the rest of us. I don't dispute that what he said was accurate, but I also don't believe that saying what's accurate is always the best course of action. He was asked a question and he answered it honestly and with some degree of accuracy, but that doesn't mean it's not going to insult your average fan, who, by the way, drives his value to be worth $25 million or $50 million or whatever he makes.
Royce Young:
No, it's certainly a lack of self-awareness, which is something Wade has had issues with in the past. But let's be honest here: Do NBA players
really
cares about fans? I mean that in a sense outside of just thanking them enough so that they renew their season tickets and keep buying his jersey. I don't think he gives a crap what the average fan thinks about him. Like I said, most are fairly divorced from reality. Once they became superstars, much less just NBA players, they weren't like you and I anymore. Especially not in their own mind. I'm definitely a person that's annoyed when professional athletes get lifted to a pedalstal, but then again, it just kind of happens by default. I mean,
we pay to watch them do their job
! If there were people at my door every morning lining up to buy $75 tickets to watch me type, I might get the feeling that I'm a little better, or at least a bit more
valued
, than your normal everyman.
This is exactly why people resent the players. There's no way in this economy we should be sympathetic to Wade's salary.
via
Twitter / @demeatloaf: @HPbasketball This is exac ...
.
Ben Golliver:
Fans are one of many things we have come to take for granted in the great, functioning NBA machine. They're a giant, amorphous blob that are talked about a lot more when they don't show up to playoff games than when they do. A few fan bases get singled out for their particular passion but that's about it. A year, or even months away, could serve as a reminder to players, media and teams alike that fans aren't a guaranteed part of this equation forever. The NBA has been setting revenue records but labor disagreements always tend to turn off a sizable chunk of people. Not to continually defend Wade here, but he's far from the only person that doesn't fully consider the totality of the fan issue.
I guess to wrap this up I would say that the time to make this statement was not now. It was back in January at All-Star Weekend, if not earlier, when labor strategies were still being discussed and there were still legit options open. At this point, on the brink of postponing the regular season, Wade managed to throw a monkey wrench into the public discourse and could well find himself and other players catching more flak than they deserve if the news out of this weekend's negotiations isn't good.
Wade could have said what he said, added "and we've accepted that for the greater good" and it would've been fine
via
Twitter / @TheAkronHammer: @HPbasketball @mBunchHeat ...
.