Charlotte Bobcats head coach Larry Brown steps down as team struggles, Michael Jordan announces.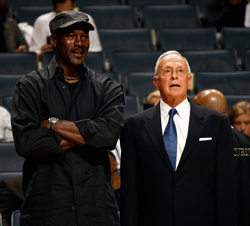 Posted by Matt Moore
UPDATE 5:03 p.m:
Ken Berger of CBSSports.com reports that the separation was amicable, but that Jordan called Brown in this morning to inform him he and his staff would be let go. He also asked Brown for a list of candidates, but stipulated,
this is to be considered an interim position
. That decision will likely narrow their list of candidates. For more on possible Bobcats replacements,
Ben Golliver breaks it down including a list of candidates according to Ken Berger
, including Paul Silas, Patrick Ewing, and Dan Majerle.
UPDATE 4:13 p.m.
: NBA FanHouse reports that
the entire staff has been let go
and that
a new coach is expected to be installed tomorrow
(which makes it sound like he's drywall).
Larry Brown has resigned as Charlotte Bobcats head coach, Bobcats Chairman and CEO Michael Jordan announced today in the following press release:
"I met with Coach Brown two weeks ago about the team's performance and what we could do to improve it. We met again this morning after practice. The team has clearly not lived up to either of our expectations and we both agreed that a change was necessary," Jordan said.

"This was a difficult decision for both of us, but one that needed to be made. I want to thank Larry for everything he has done for our team. He has played a key role in this organization's development including coaching us to our first-ever playoff appearance last season. Larry will continue to be a valuable advisor to me regarding the team. The search for a successor will begin immediately."
This marks a huge change of direction for the Bobcats, and it's unlikely that Brown himself is through coaching. He was linked to coaching vacancies in Philadelphia as recently as last summer prior to the hiring of Doug Collins. With Brown out, the Bobcats are now a sinking ship with long-term contracts and no one at the helm. Jordan just claimed majority ownership last year, and now after making the playoffs for the first time in franchise history, the team finds itself in utter disarray. How they'll get back to calmer waters is anyone's guess, but one thing is for sure. Brown will have better opportunities open to him for his next job than the Bobcats will for their next head coach.
What coach do you think should take over for the Bobcats? Vote now on CBSSports.com's Facebook page!