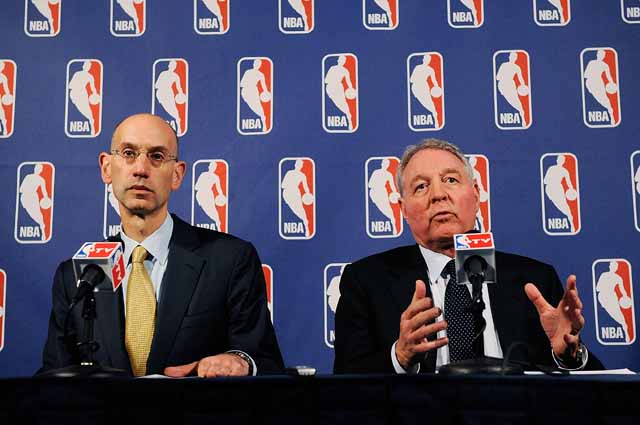 By Matt Moore
As the dust settles after the detonation following yesterday's breakdown in negotiations between the NBA and the NBPA, nothing has really changed. Further games haven't been canceled. Some things were solved but the two sides remain apart on both systematic issues and BRI. The players are still trying to hold out for some level of legitimate compromise on the part of the owners. The owners are still being lead by extremist positions inside their collective. There's still a lockout. The season is still in peril.
So why do things feel so much worse this morning? Why does everything seem so much darker and more bitter?
Where did Paul Allen come from
? And who in God's name is running this thing?
To try and sort things out, here's a list of what we do and don't know after Thursday's breakdown.
We know more games are going to be canceled.
The NBA declined to make any sort of announcement following talks yesterday, but that's probably more to do with the absence of David Stern than any sort of hope for a delay. Stern had previously said if a deal wasn't done by last Tuesday, Christmas would be in danger. So with it now being Friday, you can bet that Monday there will be at least some segment of games in November and possibly December scratched. Logistically, there are reasons to cancel the next two gamesweeks of the season, and from a bargaining standpoint, the owners have made it pretty clear that there's a benefit from showing the players their paychecks being burned before their eyes. One report Thursday night indicated that Peter Holt, formerly regarded as a moderate of moderates in the talk, told the union, "You haven't felt enough pain yet." That pain only comes with one thing, lost paychecks, which means pain for the fans in lost games.
We don't know what happened at the Board of Governors meeting.
Something happened. Thursday was the latest and most extreme example of a disturbing trend. Tuesday and Wednesday, the owners' and players' influence is minimal, the negotiating is done by the heads of both sides. Progress is made. Then either
Kevin Garnett
, Robert Sarver, Paul Allen, or Dan Gilbert decide to open their mouths and everything goes to hell in a handcart. But the players painted a pretty convincing picture given the circumstantial evidence that things were on track before the Board of Governors meeting and then the meeting happened and the train went off the rails and crashed into a mountain and now everything's on fire, oh, God, the horror, the horror. Hunter intimated that Paul Allen was brought in due to a concern from some of the owners that the league had already given up too much in the talks.
Given up too much? They didn't have anything! They barely put together a formal proposal. If you want to allege that the players' claim to 57 percent is based on a previous agreement that doesn't exist, you can't then turn around and say that your imaginary footholds on a non-existent deal are something that can be surrendered. Or maybe you can, because you're the owners and have apparently gone completely insane with power.
Whatever happened at Board of Governors lead to a dramatic change in the tone and direction of the talks.
It went from "slow and reluctant progress, but progress" to "Hey, look, the Parthenon's on fire, let's get marshmallows!" And where did that come from? That leads us to another question.
We don't know what happened with David Stern.

As Ken Berger of CBSSports.com noted
while slowly losing his mind, union advisor Jeffrey Kessler suggested without stating it that someone other than Stern was running things. Billy Hunter said at the podium that the players never heard Stern's voice on the call yesterday. Obviously he was contacted during negotiations when the owners huddled, but not even having him on the conference call during negotiating sessions just to listen in while he sipped chicken soup and recuperated?
There's no doubt Stern's ill. To suggest that this was all a ruse for benching him would be too much of a conspiracy theory. But with Stern out for the day, Dan Gilbert, Peter Holt, and Paul Allen
became significantly bigger players
. Is that a coincidence? Why wasn't Adam Silver, who has been primary point on these negotiations from the beginning, the one in charge, making statements and handling things? How did things get so far out of hand so quickly once Stern headed home to watch old movies and groan?
We know that the hard liners are still in control.
There was some hope with the progress that had been made that maybe cooler heads were back in the control room. James Dolan, Micky Arison, Jerry Buss, all were in attendance at this week's meetings. Mark Cuban flipped from being a hawk to helping to broker compromise on the BRI deal, according to reports. If enough of the owners with their heads on their shoulders could band together and pull in the undecideds...
Nope. Thursday's meetings made one thing clearer than anything else. The Loony Tunes are still running the show. Starring in this week's episode, Gilbert, Allen and Holt, who surprised nearly everyone after being considered a moderate. This lockout has been, and always will be about a four-way power struggle. Rich and mid-level players and moderate and extremist owners. The lines for the owners seem based on market lines, but pay close attention and you're going to see a few large market owners aligned with the hard-liners. Ted Leonsis was mentioned yesterday by Billy Hunter, and all that talk of the NHL system from yesterday? That's all tied directly back to Leonsis, owner of the Capitals.
As long as this thing is in the hands of unreasonable owners like Gilbert and Sarver, with shrewd new owners like Leonsis pulling weight, we're not headed for anything but more missed games and more rhetoric.
Trust my gut.
We don't know why the owners wouldn't listen to the players' proposal.
The union
said yesterday it proposed a 50-53 band
on BRI, the primary issue still left to be decided (but not the solitary one). Ken Berger of CBSSports.com has reported several times since October 4th that the owners' proposal is a 49-51 band, that's what's called the 50/50 split. It's an average of 50, with the players' average 52.5, according to a statement from Adam Silver.
But Billy Hunter said that the league wouldn't even listen to the union's proposal about the 50-53 band, that they would only hear proposals on 50/50. "Take it or leave it" was the sentiment issued. But wait a second. If the league is struggling like the league is claiming, the revenues wouldn't be high enough and they'd reach the bottom end of that 50-53 band.
Let me state this is obviously as I can.
The owners refused to hear an offer in which they could conceivably pull 50 percent of the revenue, because they will only listen to offers in which they pull 50 percent of the revenue.
There is no clearer indication of how nonsensical this thing has become, regarding the owners' position.
Let's say that the players' proposal called for thresholds in which the owners would never see 50/50 unless it was the most dire circumstances in terms of revenue. That's not the point. The point is that by putting that deal on the table, the owners would have locked the players into an offer where it was possible for them to get 50/50. All they have to do then is negotiate down on the thresholds. It gets them in the door on 50/50. Yes, they know they can wait and bust down the door to the 50/50 palace and loot it for all its charms, but this is a solution in which all the money of a lost season gets saved, they get the concessions they want, and the figure they want.
And they wouldn't even put it on the table to look at.
We don't know when they'll meet again.
It could be today, with David Stern pulling a Jordan flu-game and saving the day. It could be this weekend, in small groups now that the owners have gnashed their teeth and rabble-roused like South Park villagers screaming about jobs. It could be next week, next month, next year.
Or, the union could finally throw its hands up and say, "We did all we could. Now the agents get their way. We'll unleash the courts and let God sort them out. " If that happens, you can kiss the season goodbye. Speaking of...
The one thing we know, more than anything, is that the possibility of losing a season is more likely than ever.
How u?
We n trouble.