Philadelphia 76ers forward Andre Iguodala is expected to return to the court on Friday after suffering from an Achilles injury. Posted by Ben Golliver.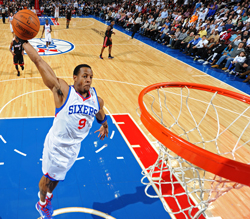 Last Friday, we noted that Philadelphia 76ers forward Andre Iguodala
strained his right Achilles and underwent an MRI
. It appears as if the injury will only keep him out for roughly a week.
The Sixers report on Twitter
that Iguodala did not practice on Tuesday due to "right Achilles tendonitis," but that he will travel with the team on its upcoming road trip, which includes games at Oklahoma City, Dallas and San Antonio. The team also noted that Sixers head coach Doug Collins told the media on Tuesday that "the target game for Iguodala's return is Friday" at the Dallas
Mavericks
. In Iguodala's absence, the Sixers defeated the New York
Knicks
on Sunday, and rookie wing
Evan Turner
, the No. 2 overall pick in the 2010 NBA Draft, had a nice night, finishing with 14 points and 10 rebounds in his first start.