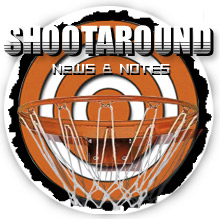 Posted by Royce Young
Rob Mahoney for the NYT on the style of rebounding: "Still, the problem lies in the assessment of rebounding style. We know that Griffin and Love approach their work on the boards differently, but that knowledge doesn't really informs the way we think about rebounding. While style in itself is one of the game's marvels, its capital value lies in how it affects function. Put another way: we know that Griffin and Love are different breeds of rebounder, but we should strive to understand the fundamental meaning and nature of that difference."
Lee Jenkins of SI with a terrific profile of Kevin Love: "Rebounding is half blood sport, half science. If a shot rises from the right wing, Love bolts to the left, in search of the low block on the weak side, which he straddles as though he's barricading his front door. His knees are bent, his back straight, his shoulder blades pushing into the chest of whoever is unfortunate enough to be stuck behind him. He turns his head to track the flight of the ball, gauging trajectory like a centerfielder. A low liner will smack straight against the rim. A high archer will bounce around awhile. A three-pointer could carom all the way to the elbow. A floater might not reach the charge circle. He considers the shooter. One teammate, forward Michael Beasley, tends to miss off the back rim, so Love braces for a long rebound. Another, center Darko Milicic, usually misses off the front, so he tries for a tip-in."
Ron Artest to the Indy Star on leaving Indiana: "A coward, I was a coward,'' Artest said before Wednesday night's game between the Los Angeles Lakers and the Pacers. "When you do coward stuff, you feel like a coward. I don't care if it was done intentionally or by mistake, you're still a coward. I don't care how young I was. That's not an excuse.''
48 Minutes of Hell on Manu: "Manu Ginobili is not a basketball player. He's an exhibitionist. And so far this this season what he is showing-off is worthy of MVP consideration. For the second consecutive game, Ginobili push the Spurs to victory with ballsy, buzzer-beating heroics. Wednesday Ginobili fueled the Spurs with a spectacular, legal-upon-review step back jump shot. But that was just a tease. What Manu Ginobili did last night we'll never see again."
Denver Stiffs Manu's charge: "While I give the Spurs credit for climbing back in to the game after the Nuggets were up by 12 at one point in the first half, the way this "win" was "awarded" to them was nothing short of highway robbery. Regardless of where you come down on the charging issue, the fact that for maybe the first time in recorded NBA history a game winning shot was nullified by a charging call. In the 25 years I've been watching basketball I have NEVER seen this. Ever. Carmelo Anthony deserved much better."
I honestly don't see you DON'T call a charge in that situation. If that's what it was, then that's what it was. Taking a charge is a defensive play, just like stealing the ball or blocking a shot. It's smart. It's heady. And if it's a charge in the middle of the second quarter, why can't it be a charge with 0.4 seconds left?