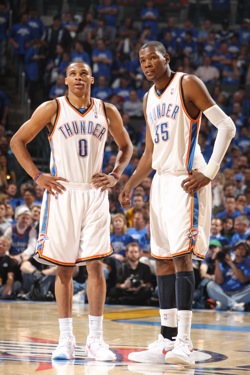 Posted by Royce Young
For all the talk there has been about
Russell Westbrook
, he certainly makes opponents adjust. Last playoffs,
Kobe Bryant
took over the duty of checking Westbrook from
Derek Fisher
. This playoff season, the
Nuggets
attempted to use a few different defenders on Westbrook and the
Grizzlies
switched
O.J. Mayo
to him.
And the
Mavericks
, will continue the trend.
Via ESPN Dallas,
shooting guard
DeShawn Stevenson
will get the starting defensive assignment on Westbrook over point guard Jaosn Kidd. And as expected,
Shawn Marion
will start on
Kevin Durant
.
A lot has been made about Kidd's age and the fact Westbrook is extremely fast and athletic, so Rick Carlisle is just going to move Kidd over. It's something the Mavs have done with Kidd a lot this season. They try to sort of hide Kidd on a shooting guard who most times isn't as speedy as a point man. I say "hide" but for instance, Kidd guarded Kobe in the Laker series just because it was a solid matchup.
The Grizzlies made the adjustment to put
Mike Conley
on
Thabo Sefolosha
and Mayo in the starting five on Westbrook in the second half of Game 4. Since that happened, the
Thunder
were a +49 with sixth man
James Harden
on the floor and a -23 with Sefolosha on the floor. Obviously, the Mavs are hoping to cash in on a similar result.
Which is why Harden is so important to the Thunder and why a lot of OKC fans have been calling for Harden to start. It won't happen as Scott Brooks is extremely stubborn on keeping consistency with his lineups and rotations. But bringing Harden in forces the Mavs to re-adjust. The difference in this series from the Grizzly one is that
Jason Terry
is a similar bench player for Dallas. The question is, once Terry comes in, who guards Westbrook then? Is it Kidd, or Terry?
This series will likely be heavy on the coaching chess match between Carlisle and Brooks. The Thunder can go small with Durant at the 4, but will they? And if they do, how does Dallas match it? There are about 50 of these questions to be asked here.
What's obvious is that Dallas is concerned with Westbrook's size and speed and wants to use a bigger, more athletic guard on him. Marion on the other hand didn't guard Durant all that much during the regular season (according to Synergy Sports, Marion defended Durant on only nine of the 48 shot attempts KD took in half-court sets). I would think
Corey Brewer
could be dusted off to guard Durant some, but Carlisle seems hesitant to sacrafice offense for defense.
Like I said, this series is full of matchups and decisions. It's going to be a good one.