The Miami Heat have officially signed point guard Mike Bibby. Posted by Ben Golliver.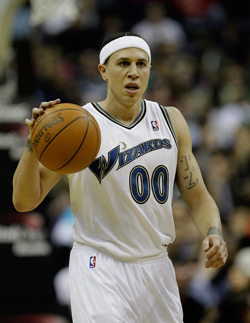 In what was probably the worst kept secret of this year's buyout season, the Miami Heat officially announced on Wednesday that they have signed point guard Mike Bibby,
who was bought out
by the Washington
Wizards
earlier this week. To make the move, the Heat, who had a full roster,
had to release
point guard Carlos Arroyo.
"We want to welcome Mike Bibby as we continue to move into the direction of our championship dreams," said HEAT President Pat Riley. "We feel Mike, with his vast postseason experience, long range game and point guard abilities, will give us a boost in the backcourt."
Bibby, a 13-year NBA veteran, has appeared in 940 regular season games (934 starts) and averaged 15.4 points, 5.7 assists, 3.2 rebounds, 1.21 steals and 34.9 minutes while shooting 43.7 percent from the field, 37.9 percent from three-point range and 80.3 percent from the foul line. He has appeared in 58 games this season, 56 games (all starts) for the Atlanta Hawks and two games for the Washington Wizards, averaging 9.1 points, 3.6 assists, 2.5 rebounds and 29.3 minutes while shooting 42.9 percent from the field and 43.5 percent from three-point range.

Bibby will wear number 0.
Bibby
had been traded
to the Wizards by the Atlanta Hawks for
Kirk Hinrich
prior to last week's trade deadline, a move which he has admitted caught him by surprise.
While this signing is not a game-changer in the race for Eastern Conference supremacy, any time a title contender can upgrade a key position - even if only marginally - it might as well do it.
The best part of these moves remains the fact that Bibby agreed to forego roughly $6 million in future salary in his buyout agreement with the Wizards. The Heat's defenders like to defend them from the "evil super team" attacks by noting that they sacrificed money to team up for a chance at a title. Bibby now becomes the clear leader in the "sacrifice" clubhouse, well ahead of
LeBron James
and
Chris Bosh
. He put his money where his mouth is and deserves our collective applause.
At the time of the signing, the 43-17 Heat trailed the 43-15 and conference-leading Boston
Celtics
by just two games in the loss column.