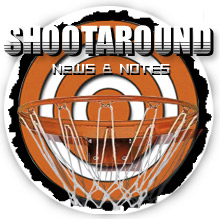 Posted by Royce Young
A Harvard Sports Analysis shows the more you dunk, the more you win: "Given that dunking does appear to correlate with winning, what can we take this to mean? The thing to avoid is seeing dunking and winning as a causal relationship (i.e. dunking more means you will win more). Instead, we should view high dunk totals as a representation of a good team (i.e. good teams will produce more dunks). These conclusions support the notion that "Dunks are Awesome!" but also that, despite the complaints of the old guard, dunks have become a fundamental. As if NBA fans needed another reason to fear the upcoming season, the only team that will enter the 2010/2011 season with three players in the top 20 for dunks are, you guessed it, the Miami Heat."
Gus Johnson has been fired from the MSG Network which breaks my heart. He's absolutely one of the very, very best out there. The NY Post with details: "Gus Johnson, the shouts-a-lot, play-by-play radio voice of the Knicks since the 1997-98 season — and a frequent fill- in for Mike Breen on MSG Network's Knicks' telecasts — is out at the Garden. Over the last two seasons, Johnson, 43, had annoyed MSG Network shot-callers by missing many games to work outside TV gigs, including CBS' college basketball and Showtime boxing. Johnson's primary replacement is expected to be Mike Crispino, an MSG TV and radio multi-tasker since 1992. Johnson, in 1997, replaced Mike Breen, who moved to MSG TV."
Doug Collins is doing better: "He's feeling better," associate head coach Michael Curry told The Philadelphia Inquirer . "Tests, as he sees them right now, were good. So we're expecting him bright and early Friday morning. [He will] start going over some tapes, getting ready for the start of the season."
Howard Beck of The New York Times: "This is the Knicks' new reality. For two years, they operated under the shadow of LeBron James. Now they are dealing with the specter of Carmelo Anthony. A shaky preseason has only made a trade look more urgent. The speculation will end only when Anthony is finally traded, wherever the destination may be."
Lee Jenkins' feature on the Thunder is truly fantastic: "When the team moved from Seattle to Oklahoma City, general manager Sam Presti wanted all his players to tour the memorial before their first open practice. Now every new player is taken to the memorial, usually in the weeks leading up to training camp, and sometimes more than once. When guard Royal Ivey came to Oklahoma City for his free-agent visit this summer, he asked Presti about the crowd at the Ford Center, how such a small market generates the most noise in the NBA. The fans have become a source of curiosity around the league, for painting their chests like frat boys, standing for long stretches and commencing a 20-minute ovation for the team three seconds after the season-ending loss to the Lakers. Presti ushered Ivey to the memorial. "It took my breath away," Ivey says. "After that I called my agent. I wanted to be a part of this."