The Miami Heat have developed a hand signal. Posted by Ben Golliver.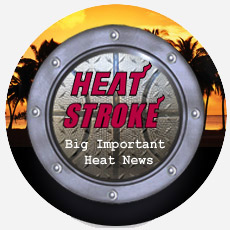 It wasn't enough for the Miami Heat to be the talk of the NBA for the entire summer, after
LeBron James
,
Dwyane Wade
and
Chris Bosh
decided to team up in South Beach. It wasn't enough for the Heat to attract veterans like
Mike Miller
, Jerry Stackhouse,
Juwan Howard
and
Zydrunas Ilgauskas
to fill out the roster. It wasn't enough for the Heat to be so loaded that they had 18 or 19 quality NBA players in their training camp, making roster cutdowns more painful in Miami than anywhere else in the league. None of it was enough, so the Miami Heat have decided to develop a coordinated team hand signal to establish themselves as cooler than the rest of the world, and the team is using it so often that we now have no choice but to write about. Via Getty images, here's LeBron James, Dwyane Wade,
Udonis Haslem
and company pinching their fingertips together with both hands raised above their head.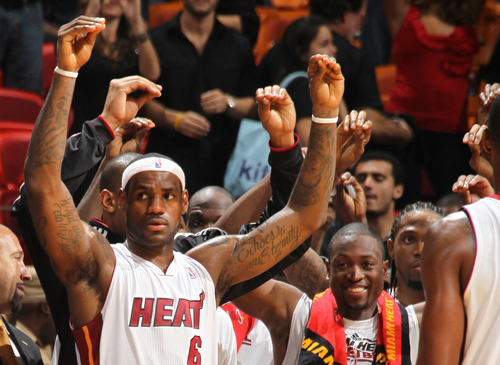 Here's a closer look at the sign, as demonstrated by Heat reserve point guard Patrick Beverley
on Twitter
.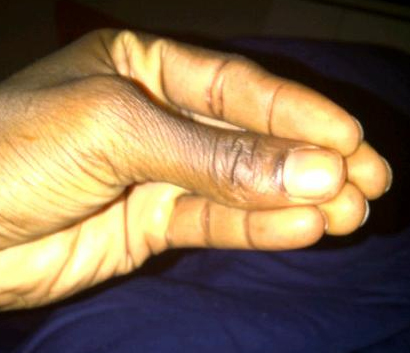 So what does the hand signal mean? Heat guards Wade and
Mario Chalmers
have made reference to the sign recently
on Twitter
, with Wade saying he was going to keep its meaning a secret. Surya Fernandez of HotHotHoops.com
caught up with Beverley
to chase down an explanation.
While coach Erik Spoelstra and later Juwan Howard trotted out for messages to the crowd, the Heat team started in with a new silent hand signal of pinching their fingertips together with raised hands as the team saluted the crowd after the scrimmage ended and during an impromptu dunk display featuring LeBron and Patrick Beverley.
Was the gesture an inside joke? Perhaps it's a sign of unity or maybe an acknowledgment to the crowd (or haters?). The reason why the team has started doing it has something to do with Beverley, who is acknowledged as the player who introduced it to the team, but he is tight-lipped about it.
"It's part of our secret society," joked Beverley. "I grew up doing it but the rest? No comment. Let's just leave it at that."
Congratulations. Not even
Andy Bernard
would want to join that secret society. I've gotta say I'm stumped on this one. I carefully investigated
this chart
and determined that they are not making the American Sign Language sign for any of the 26 letters in the alphabet. Past that, it's hard to care.
Tas Melas at The Score ventures
that the the hand signal is a hush to the haters, a way to visually silence their critics. But this whole thing begs the question: Whatever happened to the good old days, when hand signals actually stood for something meaningful?