Filmmaker Spike Lee said Saturday night that Denver Nuggets star forward Carmelo Anthony would become a member of the New York Knicks. Posted by Ben Golliver.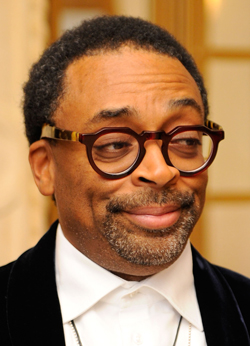 About a week ago,
we noted a New York Post story
that Denver Nuggets star forward, Carmelo Anthony, who is in the final year of his contract and set to become a free agent this summer, told filmmaker Spike Lee that his top choice was to play for the New York Knicks, a team that has been actively courting Anthony. Lee, a longtime Knick fans and season ticket holder,
told the New York Post on Saturday night
that he believes Anthony will become a member of the Knicks. But he did so in the most cleverly self-promotional way possible.
"I have just one sentence for you," Lee told The Post before the Knicks' 100-95 loss to the Trail Blazers in their home opener. "Carmelo Anthony will be with the Knicks if God is willing and the creek don't rise."
An old saying meaning a goal will be achieved as outside forces do not wreak havoc, "If God Is Willing and da Creek Don't Rise" is also the title of Lee's latest documentary on the aftermath of Hurricane Katrina.
When asked for his thoughts on Lee's statement, New Jersey
Nets
co-owner and rapper Jay-Z replied, "Carmelo will be a Net, AMERICAN GANGSTER SOUNDTRACK!!" Portland Trail Blazers owner and Microsoft co-founder Paul Allen chimed in, "Melo to Portland... Bing! Xbox Live Gold Membership!" All jokes aside, Lee nicely accomplished two goals with his statement: 1) He spread awareness for his documentary and 2) He maintained "Melo to N.Y." momentum. Both are admirable in a way, because convincing an American viewing public to watch a full-length documentary is nearly as impossible as imagining a scenario where New York's no-name roster would have enough attractive assets to land Anthony via trade. Kudos to Lee for fighting a difficult fight on two fronts in one sentence.