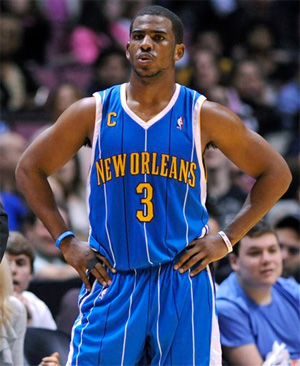 Posted by Matt Moore
Chris Paul
is not like a lot of the other NBA stars. Most of them only became interested in the lockout within the last year and a half (really All-Star 2010). Paul's been active for years in the executive side of the NBPA. And unlike a lot of stars, who are simply looking to protect the deals they've already signed, Paul's a free agent in 2012. He has the most to lose personally from this lockout and a potential restructuring of salaries. But in an interview with
Business Week
, Paul made it clear that he believes this lockout is about the good of the many, not the good of the few. From
Business Week
:
There's a cross section of players on the executive committee, which has to represent everyone. I felt there should be a guy with a maximum contract to give perspective. [Paul will be paid $16.3 million by the New Orleans Hornets next season.] Whatever sacrifices have to be made are worth it to make sure we get a fair deal, a deal that represents the whole. Some kids go to college knowing they're only playing one year before turning pro, and it was fitting that the last meeting we had with the owners came the day after the draft. We're standing up for those players because they don't have a say-so. We're their voice: It's a big brother mentality.
via
Chris Paul on Risking a Lost NBA Season - BusinessWeek
.
Paul also talks about how the players have a responsibility to future generations of players, making the lockout seem like more of a moralist argument than a business deal. And Paul's right that players that aren't in the NBPA have no way of protecting their future. At the same time, the players need to make sure they don't overdramaticize the conflict any more than they have. This is a business deal and should be treated as such.
But with Paul taking this kind of stance, publicly, it speaks to the resolve of the players. If it's just individual players looking out for their individual interests, there's a lot that can go wrong to fracture the union. But with the players looking to not only protect past work and present prosperity, but also the future, that becomes an ideological approach, which is much more difficult to crack. But in the end, this comes down to money, which is what always talks. The owners know all they have to do is survive and stretch out the lockout as far as the player's resolve will take them. It's a war of attrition, even if the players are rallying around their flag to stay the course.