An informal poll of the Lakers shows they're concerned about the Grizzlies and Blazers. As much as they're going to be concerned about anyone.
Posted by Matt Moore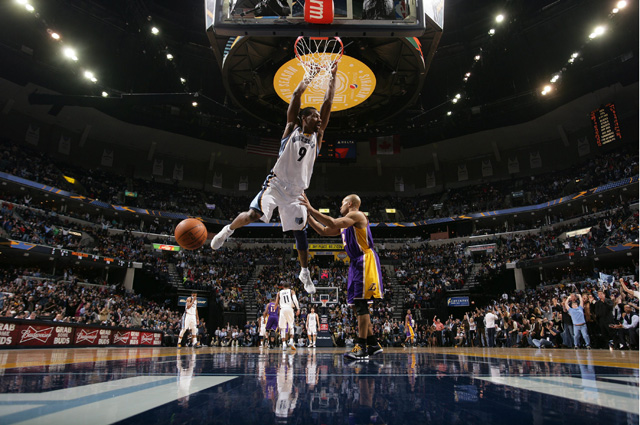 Asking NBA players who they want to see in the first round is pointless. Why would you possibly say you want to see one team, giving them material to mount an incomparable emotional challenge based off the oldest of athlete emotions: pride? Why would you possibly indicate that you don't want to see a team in the first round, giving them a mental edge when they recognize that you're "afraid" of them? There's nothing to be won or negotiated with that question. It's better to deflect or give the standard array of non-answers everyone gives.
But the Lakers, when presented with the opportunity to give an informal poll, their answers unattributed to their name? They bit.
From the
Los Angeles Times
:
Based on the four players who were willing to trade their honesty in exchange for anonymity, three of them equally expressed concern about Portland and Memphis, while one other believed the Grizzlies would be the toughest opponent. Meanwhile, Lakers executive Magic Johnson spoke pretty frankly before the Lakers' 102-84 victory Sunday over New Orleans about which potential first-round opponent would give the Lakers the most trouble: Portland, because of the "hate factor," he said.

"They don't like us and we don't like them," Johnson said Sunday, walking in a corridor underneath Staples Center. "That would be a very physical and tough series, even though we would win and we're better overall. But they really know how to play us; they're well-coached and they're tenacious."
via
Lakers informal poll reveals their belief Portland and Memphis would give them biggest challenge in first round | Lakers Blog | Los Angeles Times
.
It's surprising that the Lakers chose to answer the question. It's more surprising that they were honest. It's even more surprising that they were correct.
The Lakers are rarely if ever beasts in the first round. It takes them a few games to hit the playoff gear. But they're still good enough to overcome obstacles. Still, if you're going to upset L.A., it's going to have to be in that first round. From then on out, they're in that mode they have that that, you know, wins championships. And the only thing they hate more than getting their playoff effort in gear is having to do so against a scrappy, high-effort team, like the Blazers or Grizzlies.
The Blazers, despite a much longer rivalry and a superior record, actually suffers more in the matchup. Despite
LaMarcus Aldridge
's superb and All-Star-worthy season, it's
Zach Randolph
's gritty, ugly, "how did he do that" work down low that is particularly effective against L.A.'s enormous size and length advantage.
Marc Gasol
is outplayed by his brother in the stats department because
Pau Gasol
is very good. But it's Marc's bulk and toughness that gives the Lakers issues, along with his ability to pass from the post and high pinch post.
Mike Conley
slices and dices
Derek Fisher
, one of the few guards in the league who can't torch Conley on perimeter drives. And the Grizzlies have enough wings to throw at
Kobe Bryant
to at least have a puncher's chance at slowing him down.
The Blazers on the other hand have Camby and Aldridge, but struggle defensively against the Lakers in matchups, as has been evident this year. But there's no matchup that accounts for the Blazers' ability to rise to the occasion, which they've illustrated time and time again during Nate McMillan's tenure. Either team is simply going to be a major headache that could turn into a legitimate challenge for the Lakers if a few things go their opponents' way.
But then, the Lakers also know that if they play their best, execute, and focus, they're going to roll. That's what good teams do in the first round, it's really what great teams do in the first round, and it's definitely what championships do in the first round. This doesn't mean that the Lakers are afraid of the Blazers or Grizzlies, just that they recognize the dangers those teams represent.
Which of course means that the Lakers are
not
afraid of the New Orleans
Hornets
. Who they could very well see in the first round. Chances are the Hornets use that as some motivation should the two meet in the first round.
This is why you don't answer the question.