Dallas Mavericks coach Rick Carlisle says forward Caron Butler won't play against the Los Angeles Lakers. Posted by Ben Golliver.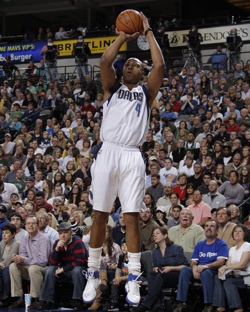 Back in January
, Dallas Mavericks forward Caron Butler underwent surgery to repair a ruptered right patellar tendon. Soon after, he
started making noise
about attempting a possible playoff return.
According to ESPNDallas.com
, Mavericks coach Rick Carlisle said on Friday that a return will not take place during Dallas' second round playoff series against the Los Angeles Lakers, which is set to begin on Monday.
"He is not going to play in this series," Carlisle told 103.3 FM ESPN's Galloway and Company, adding that Butler has yet to be cleared by a doctor.
Butler's absence puts added pressure on
Shawn Marion
, who must deal with the likes of
Ron Artest
,
Lamar Odom
and
Matt Barnes
. Marion averaged 10.5 points, 6.2 rebounds and 2.0 assists in Dallas' first round series against the Portland
Trail Blazers
.
The Mavericks will also turn to reserve forward
Peja Stojakovic
, who provided some timeline three-point shooting.
Butler would have been a major difference-maker, given the talent and physicality of L.A.'s perimeter players. Marion did an excellent job of holding Blazers forward
Gerald Wallace
in check but he also benefited from the fact that Portland's other wing players --
Nicolas Batum
,
Brandon Roy
and
Rudy Fernandez
-- aren't particularly physical or adept at getting to the free throw line.
Odom, in particular, could become a nightmare match-up for the Mavericks.