Posted by Ben Golliver.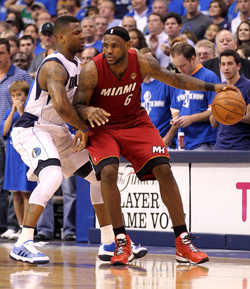 It took a grand total of eight days for a well-known NBA player to call out names in publicly trashing the NBPA's strategy of disclaiming interest and launching an antitrust lawsuit against the league.
Dallas
Mavericks
forward
DeShawn Stevenson
-- who else? -- stepped into the limelight to bash Billy Hunter, the NBPA's executive director, in his harsh critique of the union's legal strategy.
Yahoo Sports has the details
.
"For me, personally, I don't think there will be a season," Mavericks guard DeShawn Stevenson said recently at Drew Gooden's Make-A-Wish charity game. "Right now there is just a lot of bad blood and [the owners] keep putting offers out that we're rejecting. So we're not going anywhere."

"I felt like we should have decertified in July," Stevenson said. "I feel like Billy Hunter is doing a horrible job because basically now [the owners] know our hand. The media knows our hand. The owners know our hand."
These shots at Hunter come at the end of a circus year for Stevenson, who won his first title in June and became a household name during the title run thanks to his repeated attacks on Miami
Heat
forward
LeBron James
.
Stevenson said
that James "checked out" during the Finals by spending too much time "deferring" to
Dwyane Wade
. He
reportedly posted a message
on Facebook saying that said James was "overrated." He later denied writing it: "If you look at me and look at all these tattoos, do you think I'd be sitting on the Internet and typing? C'mon, man."
After the title celebration, Stevenson
wore a t-shirt
that read, "Hey LeBron! How's my Dirk taste?" Shortly thereafter, he was
arrested for public intoxication
but claimed that the police targeted him for "no reason."
Because it's Stevenson, it would be tempting for the union leadership to ignore his comments. Last Friday, though, Hunter's NBPA predecessor, Charles Grantham,
publicly questioned
Hunter's legal strategy and raised concerns about the players' current predicament. When Stevenson and Grantham, a distinguished professor and experienced negotiator, see eye-to-eye, you know there's a serious problem.
Assuming that it clings to its current strategy, union leadership is left to hope that those players who share Stevenson's beliefs don't get fed up with remaining quiet while the legal process drags on. After all, player discontent is the single most powerful variable that could help save the 2011-2012 NBA season in the short term. Unless a group of players stands up, publicly or privately, to apply pressure to the union leadership in an effort to shift course away from litigation and back to negotiation, there doesn't seem to be any other forces working towards a quick resolution. The league and its owners appear perfectly content to dig in for the long haul, and the players' new lawyers don't seem to be in any huge rush either. The legal trainwreck is headed smoothly down the tracks unless disgruntled players throw themselves in front to stop it.
I hate to say it -- and it's probably never been said before -- but the NBA needs more DeShawn Stevensons, at least if the league is to have any hope of conducting a 2011-2012 season.