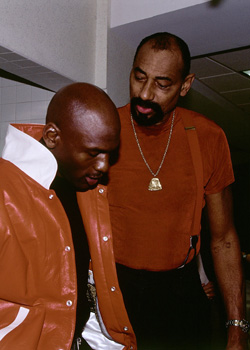 Michael Jordan said recently that he could score 100 points in today's NBA. Is that claim as ridiculous as it sounds?
Posted by Ben Golliver.
If you've spent more than 27 seconds on
Basketball-Reference.com
(or were alive and able to watch television during the 1980s or 1990s), you already know that Michael Jordan put up crazy numbers. How does a
47-point, 11-rebound, 13-assist, 4-steals, 2-blocks effort
suit you? Just ridiculous.
Jordan made some waves today claiming that he could score 100 points in a game if he played in the modern era, as part of
a marketing effort for the NBA 2K11 video game
.
Kelly Dwyer of Yahoo! Sports offers the
definitive takedown
of Jordan's claim, noting the absurdity of Wilt Chamberlain's push for 100 points.
Wilt was a 7-2 dominant force going up against a 6-10 backup center on the New York Knicks back in 1962. He was able to put up 63 shots and attempt 32 free throws mainly because the pace was so, so much faster back in that era, and because his Philadelphia Warriors team was intentionally fouling the Knicks down the stretch in order to get Wilt the ball every time down court in a contest that was a 16-point game at the end of the first quarter. It was an absolute joke of a "contest," and though Wilt is to be commended for his brilliance, there's a reason why nobody has come very close in the 48 years since Wilt's 100-point game.
We all know Jordan's
career-high was 69 points
against the Cleveland
Cavaliers
, a far cry from his imagined target of 100. But a little Basketball-Reference digging and a stretch of the imagination reveals that perhaps 100 wasn't as untouchable for Jordan as it might appear at first glance.
In 1993, Jordan made a career-high 27 field goals in a loss to the Orlando Magic. He finished with 64 points; 26 of the 27 field goals were two-pointers, which was also a career high.
In 1990 , Jordan made a career-high seven of 12 three-point attempts in a win over the Golden State Warriors, going for 44 points on the evening.
And, in a 1987 win over the New Jersey Nets, Jordan converted a career-high 26 (out of 27) free throws on his way to 58 points.
So what if we combined all of these career-highs into one ultimate Jordan performance for the ages? The 26 two-point field goals would be good for 52 points. The seven treys would add on an additional 21 points, totaling 73 points. Add in the 26 freebies and you've got ... wait for it ... 99 points. Our mythical Jordan night still wouldn't quite match Wilt Chamberlain's perfect 100. But it would come pretty dang close.