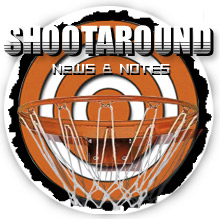 Posted by Royce Young
Positionality has become quite a discussion this offseason and Daniel Leroux of Real GM has an interesting take: "The new-look Miami Heat provide an excellent prism for discussing the positional paradigm since they have a few atypical examples when it comes to positional definitions. Both Wade and LeBron have been the primary ballhandler on their teams in recent years, mostly to great success, as each led their respective positions in assists per game each of the last three seasons. In fact, other than Jason Kidd (who is listed at 6'4", but is clearly a PG on offense and defense), all ten of the best assist per game seasons by a player 6'4" or taller since the 2003 Draft have been by Wade and James. However, neither spends much time guarding the point guard position, which is obviously the traditional lead position offensively."
Tom Haberstroh for Hardwood Paroxysm has an look at positions by shot selection: "[W]e find that Miami Heat point guard Carlos Arroyo deviates the most from the shot selection of a traditional point guard. In particular, 65.3 percent of his shots come from long twos and he barely attacks the basket or launches from downtown. His z-scores total to 8.19 which is the highest sum of the point guard bunch. Perhaps is good that he doesn't attack the basket, as he only converts on 47.8 percent of his tries which is far below new Charlotte Bobcat Shaun Livingston's 71.4 percent success rate."
Aileen Voison of the Sac Bee: "A few hours before Israeli and Palestinian leaders met in Washington, D.C., Thursday in the latest movement toward peace in the Middle East, Omri Casspi placed himself on the fringes of the conversation. At the Peres Center for Peace youth sports camp Wednesday in Jaffa, Israel, he supervised drills. He answered questions about Kobe Bryant. He scrimmaged with a girls team against a boys squad consisting of Israeli and Palestinian youngsters. Sounding at times like a diplomat and on other occasions like a coach, the Kings' second-year forward spoke about unity and tolerance. He stressed the cultural, ethnic and political diversity of the Kings. He left the community center, he said, encouraged and better educated."
Steve Buffery of the Toronto Sun with some strong words for Steve Nash: "Hardly anyone talks about Steve Nash and the fact that the 2000 Olympic Games hero refuses to play for Canada now, even though he's still a great player. Yes, he has chronic physical issues, as do many other veteran players who pull on the jerseys for their country at international events. And, yes, he only has a few good years left in the NBA and wants to maximize his abilities in that regard. But, again, the same can be said for other, particularly European, veterans who play in the NBA. But consider this: Canada Basketball undoubtedly would have bent over backwards to get Nash on the team. I know for a fact they would have allowed him to arrive at training camp whenever he was ready. They would have limited his minutes to what he saw fit. Hell, they probably would have lobbied to have a street named after him. But, no, never a discouraging word is said about the man. Speaking out against Steve Nash is like speaking out against Motherhood in this country. Nash is a wonderful person and had given a lot to Canada Basketball the last few years. But you have to wonder why everyone, including Canada Basketball officials, are so reluctant to knock the Golden Boy, even just a little bit, for turning his back on the program and the country. It's not like he spent the entire summer lying on his sore back."
Bucksketball wonders if Milwaukee should worry about Andrew Bogut: "And even if he misses some time in October or November, better that then have Bogut battling issues all season. The Bucks will do their best to make sure their franchise big man is in good physical standing for season, even if they keep the details to themselves. If it's late November and reports on Bogut are still muddied and unclear? Yeah, then it's time to grab a life jacket and jump ship. But until then, let's all stay on the ship and try not to get sick."
Hey Jazz fans, aren't you so fired up for Francisco Elson? You're not? Well, why not!?!?