Posted by Ben Golliver.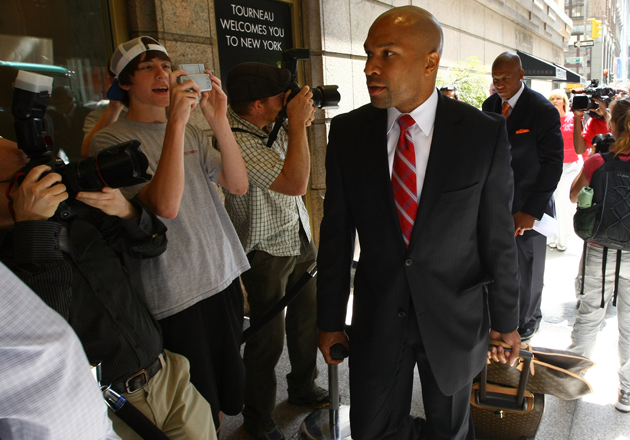 "Ready to fold."
Those three words, uttered by Washington
Wizards
center
JaVale McGee
as he exited a players union meeting in Los Angeles, will wind up being the only words that anyone remembers from the last week of NBA labor negotiations.
That's in spite of the union's best -- and worst -- efforts. National Basketball Players Association president
Derek Fisher
launched a social media campaign around the words "let us play." Over and over, from union leadership and players, we heard the phrase "stand united." New York
Knicks
All-Star forward
Carmelo Anthony
put it more bluntly: "This s*** sucks." And, mixed into all of that, there were numerous apologies from players to fans for the lack of real basketball.
The reason McGee's words will have staying power, even though they were almost immediately retracted and then later shot down by union leadership, is because they are the only words spoken recently that promise a resolution. Patience is a finite virtue. When McGee admitted that some of his fellow meeting-goers in Los Angeles were ready to forego the hard line for the quick deal, the first plainly verbalized cracks in the union's armor during months of negotiations against a group of owners that appears firmly entrenched, he obviously undercut his side's position but gifted fans and observers with hope that this maddeningly long negotiation might actually end before commissioner David Stern has to push the red button and cancel the whole season.
"The person who spent the least amount of time in the room can't make that statement," Fisher said of McGee's remarks on Friday. "He's in no position to make that statement on behalf of the group."
"As it turned out, the pacifists in the room happened to be me and Derek," NBPA executive director Billy Hunter added. "These guys behind us happen to be extremely strident. They thought we were starting to weaken."
But no amount of distancing or deflecting on behalf of the union's two-headed public leadership, nor a Twitter denial from McGee posted just minutes before audio confirming his comments went up online, can undo the damage. If the NBA's owners needed any confirmation that their plan to stall negotiations long enough for players to miss checks and agree to system-altering changes that will cost them hundreds of millions of dollars, this was it. "McGee will pay for his honesty," you can imagine the owners thinking. "Call David and tell him to lower our BRI offer by two percent."
But there's a bigger problem for the players. Yes, McGee's admission was as idiotic as it gets -- the only worse words that could have been uttered under the circumstances would have been "We surrender" -- but it was only a symptom, not the disease.
You can see the disease when you fact-check Fisher's response to McGee.
Because McGee, even though he reportedly left the meeting after less than two hours, with discussion carrying on for another hour or so, was not actually the person who spent the least amount of time in the room. In fact, McGee spent more time in that room than 90 percent of the NBPA's membership. Fisher, despite the social media campaign and multiple appeals to his members, was only able to convince 30 out of 450 players to attend. Most of the players that showed up were the same faces who showed up to the last regional meeting in Las Vegas. Some of those who showed up live in Los Angeles. Some of those who showed up are NBPA board members. Some of those who showed up are rookies whose professional careers have been hijacked by this process and have nowhere else to go.
That's 30 players in attendance with two weeks already cancelled and the rest of the season hanging in the balance. 30 players in attendance with their livelihoods on the line and the next six to ten years of basketball up for grabs. This was supposed to be a critical meeting in which everyone was invited to make difficult decisions, not a reenactment of the courtside scene before Miami
Heat
home games. Did Fisher have to break out white sheets to cover up empty seats?
While Fisher was wrong to say that McGee spent the least amount of time in the room, he was correct in saying that McGee doesn't speak for the group. Because the group, the vast majority of players who will eventually vote on a new labor deal, speaks with no voice, offering little to no support for its union leadership. That silence, not McGee's bumbling errer or Fisher's eloquent speeches or Hunter's bombastic rhetoric, is what speaks for the union right now.
You can read that silence as resignation or apathy or as misplaced faith that the owners, eventually, will come to their senses and things will work out. But if we, Fisher included, are going to kill McGee for his honesty and for leaving early, we should at least acknowledge that he actually showed up in the first place. That's more than can be said for most of his colleagues.
I take Fisher and Hunter at their word that the players in that Beverly Hilton room remain "strident" and ready for war with the owners. It's the rest of the players that they should be worried about. Because if more players don't start showing that they care by voting with their presence, what little sympathy the public has left for them will evaporate in the face of disappointment, frustration and, yes, disgust and resentment. That, combined with missed paychecks, creates a vicious cycle in which those players who were already thinking about folding, start thinking harder about it.
NBA owners -- and Stern -- are the type of businessmen born with a sixth sense for sniffing out fear and desperation. So far, the process has played out exactly according to plan for them. An apathetic rank-and-file that doesn't speak loudly and together is a body that will be amenable to the first deal presented to it, regardless of the details. The owners are banking on continued quiet from the vast majority of the players.
Folding in a billion dollar negotiation isn't likely to be a loud, spectacular scene with shouts, screams and tears. It will probably happen in silence. This is America, where money -- large amounts of money -- disappears all the time, because nobody says a word.