Philadelphia 76ers forward Andre Iguodala reportedly hasn't requested a trade. Posted by Ben Golliver.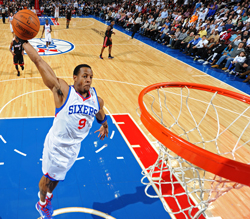 Kate Fagan of Philly.com reports
that Philadelphia 76ers star forward Andre Iguodala, a member of the 2010 Team USA World Championship team, has not requested a trade. Fagan writes that an ESPN broadcaster alluded to a trade request -- either now or later in the season if the Sixers struggled -- during a television broadcast on Wednesday, when the Sixers hosted the Miami
Heat
.
That statement, along with some circulating second and third-hand rumors, created a small amount of buzz that Iguodala wants out of Philly.
That is untrue. Iguodala has not requested a trade, nor has he told management he'd like to be traded if the Sixers aren't winning by midseason. Iguodala has not approached management with any trade request. According to a source, the "news" came from a statement Iguodala made -- saying he'd like to play for a winning team -- that was then taken out of context and morphed into the logical next step: well, if Philly isn't winning, then Iguodala wants out.
Iguodala's case in Philadelphia is an interesting one right now because presumably rookie
Evan Turner
is the franchise's face of the future. Turner and Iguodala aren't incompatible by any means, but, fast forwarding a few years, could the Sixers make better use of his salary slot to complement Turner? It seems likely. But if you're Philadelphia and you're not in love with the Iguodala/Turner pairing, you're still in no rush to move Iguodala, even if he's unhappy. At age 26, Iguodala is just entering his prime and his trade value will therefore remain as-is into the foreseeable future. For that reason, and the fact that Iguodala's contract runs into 2013-2014 (player option on the final year), any trade talk seems extremely premature. As for Iguodala's statement that he wants to play for a winner? That's all good. With the young pieces Philly has assembled around Iguodala, contending for a playoff spot in the Eastern Conference isn't out of the question. So, Iggy, don't talk about playing for a winner, be about it.