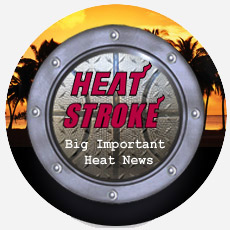 Posted by Royce Young
The new Miami
Heat
tend to get ahead of themselves a bit. When they introduced the new members of the team, they threw a championship sized party. And immediately, the team didn't start talking about winning a championship. They started talking about winning champion
ships,
plural.
And it appears that kind of braggadocious mentality has sort of rubbed off on their fanbase. Example the first,
via Ira Winderman:
They are chanting "Beat L-A!" at open scrimmages. Um, too soon?
No doubt there's already been a little sniping back and forth between the two evident top dogs in the league.
Kobe Bryant
briefly talked about the Heat, mentioning is first thought besides "How the expletive did that happen?" was, "I've got to get my knee healthy."
Ron Artest
left LeBron off his top two players list. Artest also talked about how losing weight will help him defend
Kevin Durant
, but he worries about defending LeBron in a seven-game series.
So both teams are kind of getting ahead of themselves a bit. But "Beat LA?" at an open scrimmage in October? Yeah, that's sort of skipping the forward, the introduction, the plot and the climax of a book and reading the last chapter.
Granted, this is one open practice. And fans like to have fun and chant things. I don't blame them. But what if this persists into the regular season? What if when the Heat are blowing out the
Raptors
in December, Heat fans start up with it? Couldn't that give some extra fodder to teams like the
Magic
,
Celtics
and
Bulls
, all teams that feel they're a hurdle for the Heat to jump?
Thinking NBA Finals in October isn't a big deal. It's every team's goal. Right down to the
Clippers
, the
Nets
and the
Wizards
. Everyone wants to hoist the trophy. But talking about it, chanting about it and being downright brash about it in October, before your team has even played a game? If the Heat and their fans want to be the NBA's villains, they're off to a nice start.