Dallas Mavericks forward Dirk Nowitzki has passed Boston Celtics forward Larry Bird on the NBA's all time scoring list. Posted by Ben Golliver.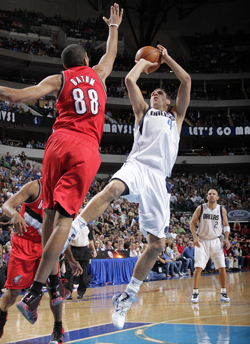 On Tuesday night, Dallas Mavericks forward Dirk Nowitzki scored 17 points in a 105-99 road win over the Orlando
Magic
. In the process, Nowitzki moved into 25th place on the
NBA's all time scoring list
. At night's end, Nowitzki had 21,798 points, passing Boston Celtics Hall of Fame forward Larry Bird (21,791). If Nowitzki continues on his current scoring pace this season, he would finish the year with more than 23,000 points, moving him past Clyde Drexler (22,195) and Gary Payton (21,813) into 23rd place. Both Adrian Dantley (23,177) and Elgin Baylor (23,149) are also possibly within reach this year. Given that Nowitzki is just 32 years old and his scoring production has remained relatively level for the past five seasons, there is a very, very good chance that he will end his career in the top 10 of the league's all time scoring list. To do so, he'd need to reach roughly 27,000 points, which equates to a little more than 2 years (after this season) at his current pace, or 3-4 seasons at a reduced rate. Given his history as an extremely durable player, no lingering injury concerns prevent Nowitzki from playing until he is 35 or 36, and his current contract runs for three years after this season. Nowitzki's current career scoring average of 23.0 points per game is better than half of the 24 guys currently above him on the list. Moses Malone, Elvin Hayes, Hakeem Olajuwon, John Havlicek, Alex English, Reggie Miller, Patrick Ewing, Charles Barkley, Robert Parish,
Kevin Garnett
, Drexler, and Payton all averaged less than 23.0 points per game. The only other active players in the top 25 currently are Celtics center Shaquille O'Neal (5th place), Los Angeles
Lakers
forward
Kobe Bryant
(11th place) and Celtics forward Kevin Garnett (22nd place). Bird had been one of only five players in the top 25 all time to achieve the mark in a career that lasted less than 1,000 games. The others: Jerry West (932 in 15th place),
Allen Iverson
(914, in 17th place), Dantley (955, in 20th place) and Baylor (846, in 21st place). NBA.com
reports on Twitter
that Bird sent Nowitzki a congratulatory text message after the game.