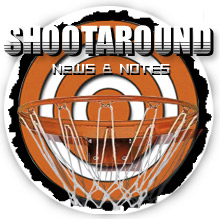 Posted by Royce Young
A website has compiled a big list of team slogans for all the major sports and it's pretty obvious the NBA has some pretty terrible ones. "Get Pumped!" and "CommITment Engergizes" just aren't doing much for me. Check out the whole list. It's fascinating.
Linda Robertson of The Miami Herald: "The announcement was ominous: Dwyane Wade, strained right hamstring. Will not return. That is, the linchpin and soul of the new Miami Heat would not return for Tuesday's preseason opener against the Detroit Pistons. When he will return is unknown. Hamstrings are the recalcitrant divas of the muscle set, and often require extra coddling, stroking and pleading to attain cooperation. Wade could very well be good as new in a couple of weeks, but the sight of him limping off the AmericanAirlines Arena court barely three minutes into the game elicited a murmur from the festive crowd. Panic? No. Concern? Yes. Here, on the first night of the anticipated odyssey to an NBA championship, the Heat and its fans got a glimpse of the dreaded disaster scenario. What if one of the Big Three goes down with an injury? What if Wade, LeBron James or Chris Bosh winds up on the bench wearing a suit and tie?"
The Cavaliers played a preseason game last night too. Remember them? Bob Finnan of the News-Herald: "Their chance for a championship might have dimmed, but basketball is not dead at Quicken Loans Arena. The Cavaliers kicked off their new era of basketball without LeBron James on Tuesday in an 87-72 victory over the Charlotte Bobcats in the preseason opener for both teams. 'It's home,' Cavs forward Jamario Moon said. 'It's never strange to go home. We were anxious to get in here and show people basketball is still alive in Cleveland.'"
Everyone was focused on what was going on in Miami last night, but did you know DeMarcus Cousins was awesome in his debut? Cousins put up 16 points and 16 rebounds in the Kings' win.
Truth About It on John Wall's debut: "Why, beyond statistics, Wall was worth drafting first overall. I hear DeMarcus Cousins had a nice night. And perhaps something he did sparked some energy in his team at some point. But overall, without the consistency and the label PG next to his name in the stat book, Cousins doesn't come close to doing what Wall is able to do with his energy, effort, and passion for the game that's absolutely contagious to his teammates."