Minnesota Timberwolves owner Glen Taylor says his organization will not be a victim of NBA contraction. Posted by Ben Golliver.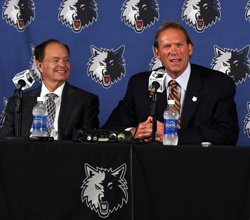 We've followed the issue of
potential NBA contraction
closely in this space, and roughly a week after the possibility of
reducing the number of teams in the NBA was first floated
, it's still not clear which teams would be in the crosshairs. The obvious candidates are those teams in most desperate shape financially or those in small markets that struggle to support a professional sports team. Already, we've noted that owners for both the Sacramento
Kings
(
here
) and the Memphis
Grizzlies
(
here
) have said their teams will not be contracted. Another franchise that is often linked to contraction is the Minnesota Timberwolves. The Timberwolves have struggled to put out a winning product and season ticket sales aren't exactly robust in a market that is football, football, football. Jerry Zgoda of
StarTribune.com reports on Twitter
that Timberwolves owner Glen Taylor, who is involved in the current labor negotiations, distanced his franchise from the contraction talk. "I can say Minnesota is not one of the teams that would be contracted," Taylor is quoted saying by Zgoda. So while contraction is being discussed, everyone, including NBA commissioner David Stern, acknowledges, it appears none of the likeliest suspects feel any concern about the possibility that they will go under. In other words, this is inching closer and closer to "idle threat" territory, if we're not there already.