Miami Heat guard Dwyane Wade returned to practice on Saturday. Posted by Ben Golliver.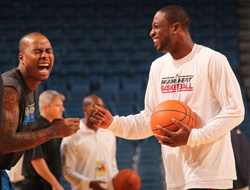 ESPN.com's
Michael Wallace reported on Twitter
that Miami Heat all star guard Dwyane Wade, who has been dealing with child custody proceedings in Illinois and with an injured hamstring, returned to the practice court on Saturday. Ira Winderman of the Sun-Sentinel writes that
Wade was glad to be back
.
"We're excited about having the band back together," Wade said after the two-hour, non-contact session. "It felt great. It was like I was dreaming about it."
Winderman also reports that Wade will participate in a full-contact practice session tomorrow, in preparation for Miami's regular season opener on Tuesday in Boston against the
Celtics
. Wade played just 3 minutes before injuring his hamstring in his only preseason appearance, an Oct. 5th win over the Detroit
Pistons
. The injury kept him out of the Heat's six other preseason games.