Bodog.com has released gambling odds for the 2010-2011 NBA season. Here's a look at the best and worst bets involving the Miami Heat. Posted by Ben Golliver.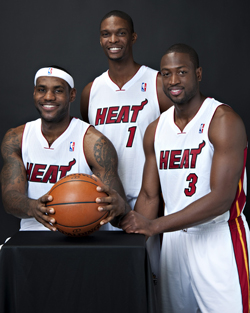 Gambling website
Bodog.com
has unleashed its full list of odds for the 2010-2011 NBA season, and they didn't tread lightly when it comes to Miami Heat bets. (Mandatory disclaimer: the following is for entertainment purposes only.) You can bet on the Heat to: win the NBA title (17/10 odds), win the Eastern Conference (2/3), and win the Southeast Division (1/3). With those numbers, the Heat are the odds-on favorite in each of those categories. The Heat's over/under is set at a league-best 64.5 wins, a full eight games better than the next closest team, the Los Angeles
Lakers
(56.5). Miami Heat star forward
LeBron James
(9/2) trails both
Kevin Durant
(9/4) and
Kobe Bryant
(3/1) as a favorite to win the NBA MVP award. James's teammate, Heat guard
Dwyane Wade
, checks in at fifth place (9/1) while Heat forward
Chris Bosh
is listed, probably as a courtesy, further down the list (40/1). Interestingly, Wade (8/1) is actually expected to be a better bet to win the league's scoring title than James (9/1). This is likely a function of expectations for James to take on a greater play-making role than he had in Cleveland. The more specific and esoteric Heat-related bets are where the real fun starts, though. Bodog sees Miami's ability to win 73 games as something of a longshot (10/1). It sets the over/under on a single-game margin of victory absurdly high (38.5 points). They also set reasonably good odds (8/1) for James, Wade and Bosh to be starters together on this year's Eastern Conference All Star team. While I'm no gambling expert, I do play one on the internet. Here are a few Miami Heat bets that caught my eye.
Great Bet
Bodog.com set the line for the Heat's lowest point total in a regular season game at 82.5 points. Given that total points are a direct function of pace and field goal percentage, I would bet the under on this one and not think twice. Many teams will likely look to slow the game down against the Heat this season as a way to make up for the immense talent advantage the Heat bring to the table. And all it takes is a cold shooting night in a slow-paced game to see a score in the low 80s, even in a winning effort. Two other considerations. First, the Heat could be runaway division and conference champions, able to rest key players down the stretch. Second, the Heat has already battled some nagging injuries to star plays during the preseason, and it's shown in their ability to put up points. During two out of the team's six preseason games to date, the Heat has failed to score 80 points. A hamstring injury to Wade has hindered their offensive output during the preseason, but there's no guarantee he (or James or Bosh) will be healthy for all 82 games. Bet the under and cash that check.
Good Bet
Another one I like, in a similar vein, is the Heat's highest point total in a regular season game, with the over/under set at 128.5. I like the over here for many reasons. First, the Heat sport potentially the most explosive offense the league has seen in years. With LeBron James running the show, surrounded by efficient scorers and good shooters, the Heat have the potential to stack up points both from the charity stripe and from deep. If they decide to push the pace as promised, turning James loose in transition, watch out. Points in bunches. Second, the Heat have quality division rivals, especially Orlando, to push them. Orlando has been clocking teams throughout the preseason, running up insane scoring lines, including hanging 135 points on New Orleans and defeating the
Bulls
105-67.
Magic
/Heat has shootout potential written all over it. Finally, the Heat are playing with a chip on their shoulder, monster expectations and insane media coverage. They will want to prove the hype is legitimate and they will have plenty of weak defending teams to prove it against. The Golden States, Torontos and Minnesotas of the world better watch out.
Stay Away
Ironically, the one I would caution most strongly against is one that will see a ton of action: the 17/10 odds that the Heat will win the title. The Los Angeles Lakers re-tooled, the Magic look very solid and the Boston
Celtics
are lurking as long as
Kevin Garnett
can hang on. In other words, there will be serious tests, and along with serious tests comes a fair bit of risk for gamblers. 17/10 just doesn't feel like enough pay-off to ride this horse, which is susceptible to injuries, streaky play, a young coach and a mix-and-matched reserve unit.