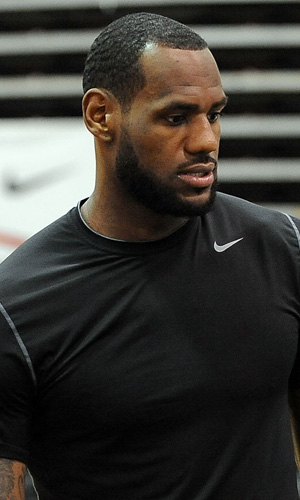 Miami Heat star LeBron James has been named to Fortune magazine's "40 under 40" list. Posted by Ben Golliver.

Fortune
Magazine's annual "40 under 40" list is the go to source for making all of us feel horrible about how little we've accomplished during our lifetimes. So you're telling me a 27 year old has made billions as a hedge fund manager? That's fascinating. Please, tell me more.
"40 under 40" is even more insufferable thanks to the rise of dot-com dorks bent on world domination. Look at
this gallery
: it's so pale, they might as well call it "40 under SPF 40".
Amidst all of the internet start-up founders, venture capitalists and marketing executives, there is only one athlete: LeBron James, who
checks in at No. 20
. Here's
Fortune's
explanation for why he made the list.
How many people can stop the pulse of a country? James's primetime signing with Miami this summer was slammed as a publicity stunt, but his brand emerged unscathed. It was the latest marketing bonanza seeded by his own company, LRMR, which James and high school friends have built over four years. LRMR has brokered James's deals with McDonald's and State Farm; a Sports Illustrated tally ranks him No. 4 on its list of top-grossing athletes, with an estimated $42.4 million this year.
It's difficult to argue with James's inclusion because he singlehandedly changed the NBA's course by virtue of "The Decision" to take his talents to South Beach and team up with
Dwyane Wade
and
Chris Bosh
.
Amazingly, though, James, perhaps the biggest self-promoter in the history of basketball, barely raises an eyebrow compared to the egos in this group. When you consider that Facebook founder Mark Zuckerberg (
No. 2 on the list
) has a feature-length, big-budget Hollywood movie that helps settle his scores, James's "Decision" looks puny by comparison. What truly defines influence and power: partying at all hours of the night with the founder of Napster on the silver screen or handing out a courtesy check to the Boys and Girls Club on cable television?
Knowing James, he won't be content to settle for No. 20, and he has an astounding 15 more years of eligibility to climb up these rankings. Sooner or later, I expect to have a portfolio managed by King James Investments and to be staying connected with my friends on FaceBron. It's James's destiny.
Hopefully, by then, James has a championship ring, the only measure of influence that truly matters in the NBA.