Posted by Ben Golliver.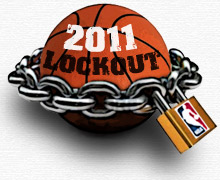 Mayors are usually only good for riding in the back of convertibles during parades, promising to lower taxes and lock up sex offenders, and dramatically cutting ribbon with oversized scissors, so it came as a pleasant surprise this week when a group of them decided to nudge their way into the ongoing NBA lockout.
WISHTV.com reports
that 14 mayors from NBA cities addressed a joint letter to commissioner David Stern and National Basketball Players Association executive director Billy Hunter requesting that the two sides work to salvage a season and to end the lockout as quickly as possible.
The letter can be read
here
. The following is an excerpt.
Unfortunately, lost in the debate over a new NBA collective bargaining agreement, has been the perspective of those very residents and the negative impact a cancelled season might have on them, our cities and our local economies.

We know the issues being discussed between NBA owners and players are complex and need to be addressed to ensure the long-term wellbeing of the league. We are not interested in taking a side. The United States Conference of Mayors has always maintained impartiality in major leagues sports negotiations.

Rather, we respectfully ask that you consider the consequences to our cities should the lockout continue. We ask that you work quickly to find a way to compromise so that we might salvage the upcoming NBA season.
As WISHTV.com notes, the letter is written without taking a side in the dispute. The goal is compromise for both sides, not victory for one or the other. Among the undersigned include Sacramento Mayor Kevin Johnson, an All-Star guard for the Phoenix
Suns
in the 1990s, and Detroit Mayor Dave Bing, an All-Star guard for the
Pistons
in the 1960s and 1970s.
The big question here is whether this letter will influence the negotiations. The answer is no, not at all, but at least they tried.
On Monday, Stern
announced the cancellation
of the first two weeks of the league's regular season. Previously, he cancelled the entire preseason schedule and postponed the start of training camp. Stern said Thursday that if a deal cannot be reached by Tuesday, Oct. 10, that the league's annual Christmas Day games
could be in jeopardy
.