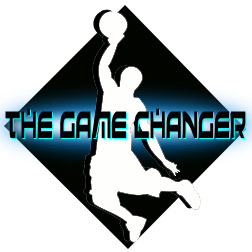 THe Chicago Bulls beat the Jazz in Utah thanks to a critical late-game steal by Derrick Rose, Blake Griffin dunks all over the Knicks, Bill Walton rocks a crazy tie-dye t-shirt and plenty more. Posted by Ben Golliver.
Each game is made up of elements that help formulate the outcome. Monday through Friday, we'll bring you the elements from the previous night's games in our own specialized version of the game recaps. It's not everything that happened, but it's an insight into what led to the results you'll see in the box scores. This is
the Game Changer.
THE BIG ONE: ROSE, BULLS STEAL ONE FROM JAZZ
Earlier today,
we took a long look
at Chicago Bulls point guard Derrick Rose, and the respect he's earning around the league for his new-look jump shot and how it's transformed him into one of the most unstoppable forces in the NBA this season.
Rose delivered again on Wednesday night, scoring 29 points and dishing out seven assists, to help ease the tension among Bulls fans who had started to itch a little bit after two consecutive road losses in which Chicago uncharacteristically gave up more than 100 points in each game.
Rose's big night was enough to carry a somewhat disjointed, up-and-down Bulls team over the Utah Jazz, 91-86. Utah played sloppy overall and melted down in the game's closing moments, committing three critical turnovers in the last 65 seconds to send Chicago to
It's not often that Utah's All-Star point guard
Deron Williams
looks flustered, but he was on Wednesday night, particularly late, as his floor sense and awareness weren't up to snuff when it mattered most and he was unable to match Rose shot-for-shot, finishing with just 11 points on 13 shots.
But, surprise surprise, the game-changing, momentum-swinging play came on the defensive end for Chicago and it was Rose who made it.
After getting a stop, Utah looked to push out in transition with Williams leading the attack in the open court for a potential 2-on-1 fast break. With the Bulls leading by just one point, 87-86, and just over a minute to play, a basket or free throws by Utah would have changed the complexion of the end game scenario.
Instead, Rose, who started behind his own baseline and shot out of the gates like a scud missile, tracked down Williams just as he crossed the three-point line. Williams never sesed his presence nor did he adapt to a potential swipe from behind, leaving the ball out on a plate as he looked to gather for takeover towards the rim. Rose, waiting for the ball to bounce up off the floor, timed his steal attempt perfectly, getting the ball cleanly and also tapping it to himself in the open court, where he was able to recover possession without the ball bouncing out of bounds.
It was an uncanny, instinctual, brilliant, physical play, the kind that can send an entire team reeling. Indeed, the Jazz would not score again, committing turnovers on their next two possessions, and the Bulls iced things away with free throws.
Here's tape of the play. Enjoy.
GO-GO-GADGET LINES OF THE NIGHT:
Roy Hibbert: 29 points, 10 rebounds, two assists, two blocks on 12-of-19 shooting in 34 minutes in an Indiana Pacers home win over the Charlotte Bobcats.
David West: 32 points, 15 rebounds, five assists, three steals on 13-of-23 shooting in 53 (!) minutes in a New Orleans Hornets road loss to the New Jersey Nets.
Dwight Howard: 30 points, 17 rebounds, two steals and two blocks on 8-of-13 shooting in 44 minutes in an Orlando Magic road win over the Philadelphia 76ers.
JaVale McGee: 16 points, 17 rebounds, one assist, three blocks on 6-of-11 shooting in 37 minutes in a Washington Wizards home win over the Milkwaukee Bucks.
DON'T MISS:
HIGHLIGHT REEL:
This is just a Blake Griffin dunk every single day, you know how I do it.
Here Griffin a run ahead touchdown pass, tangles feet with New York Knicks forward
Amar'e Stoudemire
, who falls to the ground, and then dunks with two hands with an authoritative finish.
Next up: Griffin corrals the alley oop pass on the reverse pivot in the post and throws it down as he has so many times before.
The dunk of the night actually went to Griffin's teammate,
Clippers
center
DeAndre Jordan
, who threw down a vicious Griffin-style tomahawk jam in the vicinity of two Knicks players. Oh me, oh my!
WHIMSY:
Bill Walton's tie-dye t-shirt will blow your mind. Here he poses with a member of the Grateful Dead.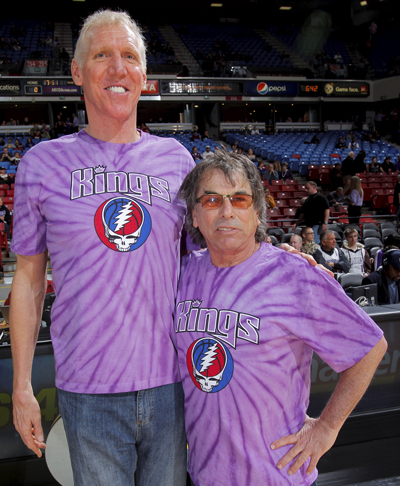 FINAL THOUGHT:
Kudos to Jazz point guard Deron Williams, who has been a grump for much of the last two months, for taking ownership of tonight's loss to the Chicago Bulls.
The Salt Lake Tribune reports
that Williams "said loss to Bulls should be placed on him because he didn't finish down stretch." That's true, it doesn't happen often and it's a great sign of class, maturity and leadership that Williams chose to take the rap when he did have a seriously off night.