Golden State Warriors guard Charlie Bell was arrested on DUI early Friday morning. Posted by Ben Golliver.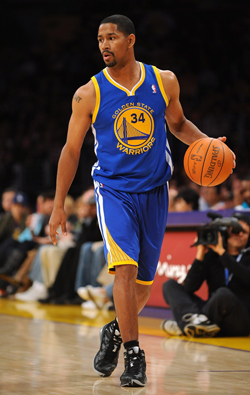 Stop the presses: there was a basketball-related, drunk driving arrest in Northern California that didn't involve the Sacramento
Kings
. The
San Francisco Chronicle reports
that Golden State Warriors guard Charlie Bell was taken into custody early Friday morning "on suspicion of drunken driving."
A CHP officer arrested Bell about 2:45 a.m. on Lakeshore Avenue, near Oakland's Lake Merritt, CHP Officer Sam Morgan said. Bell was booked at a downtown Oakland jail, where he remained for about four hours before being picked up by teammate Reggie Williams.
First of all: shout out to Reggie Williams. Picking up your drunk teammate from jail in the middle of the night is worth some serious brownie points. In a horrible situation, that's going above and beyond the call of duty.
Second of all: The plot thickens a little bit, as Bell was arrested the night after a game in which he actually played, because the Warriors are currently short-handed in the backcourt. The
Contra Costa Times reports
that the Warriors are now recalling
Jeremy Lin
from the D-League because reserve guard
Acie Law
is dealing with a wrist injury.
In need of bodies in the backcourt, the Warriors recalled Jeremy Lin from the NBA Development League. Lin has been dominating the D-League and Warriors' management loves the progress he's made. He's gotten better going left, his outside shot has improved and he's gotten experience playing consistently. Most importantly, I'm told, Lin plays with more confidence.
In 16 games, he is averaging 17.9 points, 5.6 rebounds and 4.7 assists with 2.2 steals in 32 minutes. He's shooting 51.8 percent from the field and 40 percent from three-point range.
The most prudent course of action here is probably to assign Lin an extra rookie duty: acting as the team's official on-call designated driver. Just get him a giant 8-passenger van and a walkie-talkie and/or pager. Seems like a reasonable investment if the Warriors would like to stay on the court rather than in the courtroom.