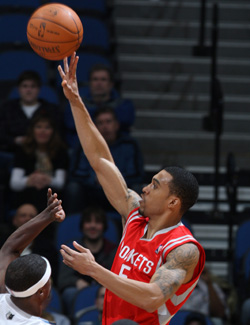 Courtney Lee is concerned about the trade deadline but knows it's out of his hands.
Posted by Matt Moore
Courtney Lee would do well to write a book about his first three years in the league. He's gone through a good sampling of the emotional highs and lows for an average NBA player during the course of his career, in a very short amount of time. Drafted by Orlando and not expected to provide much, Lee wound up being a huge part of the
Magic
's run to the Finals. He was athletic, he was versatile, he hit big shots. He looked like a huge building block for the Magic. Then the Finals, particularly, Game 2. He was
this
close to winning Game 2 for the Magic
on an improbably alley-oop
. He couldn't convert what was a near-impossible play. But everything changed for Lee after that.
He was traded to New Jersey in the
Vince Carter
deal, and only narrowly avoided being a part of one of the worst teams in NBA history. Then this season he was traded to Houston, where he's become a solid role player. He's shooting 42% from the arc and averaging 15 points and 4 rebounds
per 36 minutes
. Still, with Houston expected to be active at the deadline in looking for deals, he could be on the move again. No rocket is immovable right now. And that's something that concerns him. From the
Houston Chronicle
:
Rockets guard Courtney Lee, who had been traded after each of his first two NBA seasons, said he is concerned with the trade deadline next week, but will be fine either way. "I'm happy," Lee said. "I've been traded twice so that doesn't faze me at all. Wherever I'm at, I enjoy. I'm going to be a professional and work hard. If that leads me to be somewhere else, I'll do the same."
via
Rockets notes: Lee concerned before trade deadline | NBA Basketball | Chron.com - Houston Chronicle
.
Lee's saying all the right things, but he was unhappy when he was traded to the
Nets
, and having been traded twice now, he's got to be getting sick of it. It's not like he's a bust. Just for reference,
Hasheem Thabeet
can't seem to get out of town, but Courtney Lee gets swapped like a pog. This whole thing makes little sense sometimes.
The biggest knocks on Lee are a limited set of athleticism and the fact that he's a third year player and 25-years-old. Basically, his ceiling is low. But at the same time, he's shown a remarkable ability to step up and make big plays. Defensively, time in a stable system could push him along considerably. The Magic didn't think he was worth enough to keep, but then, the Magic also thought Vince Carter would be the thing to put them over the top. So obviously things don't always work out how they think.
Lee's going to be sweating through the trade deadline, hoping for some stability in his career. Too much movement can kill your ability to get comfortable, stay confident, and play through it. It's getting used to new coworkers every six months and having to figure out what a new boss wants from you, without any leverage. It's a rough way to work, even if it is getting paid millions to play basketball.