The Los Angeles Lakers lead the Boston Celtics 54-50 at the half of their game on Sunday. Posted by Ben Golliver.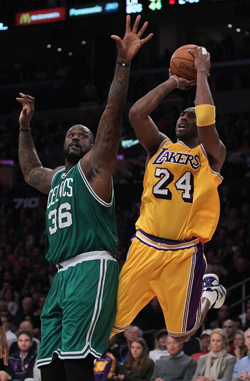 In their first meeting between the teams since the Los Angeles Lakers defeated the Boston Celtics in the 2010 NBA Finals, the Lakers hold the edge at halftime, 54-50.
It was a tale of two quarters, to some degree, as the Celtics pushed strong out of the gate, building a 16-9 lead, with 14 of the points coming from Boston's Big 3 of
Kevin Garnett
,
Paul Pierce
and
Ray Allen
.
It was slow-going offensively for the Lakers throughout the early stages of the game, but Los Angeles, keyed by guard
Kobe Bryant
, went on a 13-2 run in the middle of the second quarter, as Bryant notched nine of those 13 points.
The half ended in a disappointing fashion for the Lakers, as forward
Lamar Odom
carelessly fouled Celtics big man
Glen Davis
on a three-quarter court desperation heave. Davis made two of the three free throws with less than a second to go in the second quarter, pulling the Celtics back to within four points.
Interviewed on his way to the locker room, Bryant was asked about the foul. His response: "That should make SportsCenter's 'not top 10' moment ... in those situations, you just have to back up."
Bryant leads all scorers with 22 points. Lakers center big men
Pau Gasol
and
Andrew Bynum
and Odom all chipped in eight apiece.
Pierce led the way for Boston with 16 points.